June 12, 2018 By Al Dueck Duxton Windows and Doors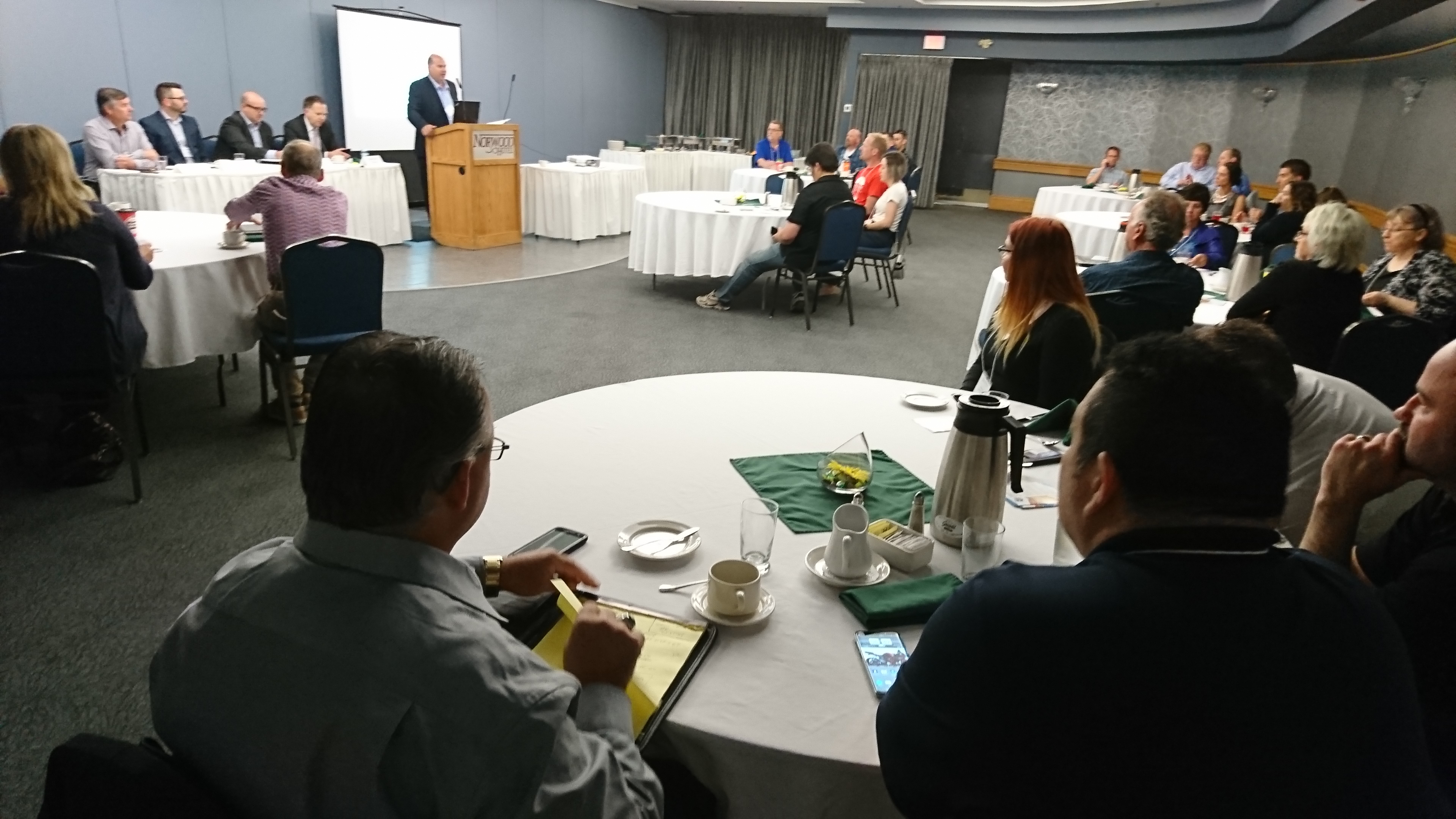 The latest Fenestration Manitoba event was particularly rewarding for a number of reasons. First, Nancy Zubriski, executive director, pulled together a wonderful mix of very well-qualified speakers that allowed the topic to be particularly well addressed from multiple angles including real life. Secondly, a room full of high-level window and door manufacturing personnel took a half of a day to participate and then responded with some very gratifying comments. Chris Howell, director of operations at Alliance Door Products, said, "Thanks again for all of your efforts in pushing our industry forward. John (Howell) and I both really enjoyed the seminar. Great presentations and informative content. We will be sharing our information today with our director of HR in Lynden to bring some awareness to the upcoming changes."
Jonah Trusty, operations manager at Armwood Windows, said, "I really appreciate the organizers and speakers for putting on such a wonderful seminar today on cannabis, social media and the workplace. I definitely feel like we all left seminar with a greater awareness, understanding and the confidence to address the topics that were discussed today. Thank you!"
Al Babiuk, president of Loewen Windows, said, "The panel session was excellent for information, and a good depth for two hours. Two legal advisors, one human resource advisor, and one operations leader were a great mix of legislative information and practical application within a manufacturing workforce environment."
Ryan Dudeck acting as MC introduced Adrian Frost, a lawyer with TDS Law; Brad Lutz, principal at Acuity HR Solutions; Scott Hoeppner, another lawyer with TDS Law and Jim Neirinck, plant manager at Jeld-Wen Winnipeg. They combined to deliver a very professional, well prepared and entertaining set of presentations beginning with the newer issues emerging from social media channels and how that relates to corporate and personal social media conduct considerations. Adrian Frost brought some really interesting insights into the potential challenges brought to companies NOT prepared to deal with those issues and how the legal system has dealt with them.
Scott Hoeppner had specialist knowledge on the emerging challenges from cannabis legalization, and provided some detailed insights including the specific different impacts of addiction versus medically prescribed versus recreational use and how companies should develop policies and procedures to more effectively to deal with each. Brad Lutz and Jim Neirinck brought it all together with some experienced insights into how all of this can and does impact the workplace – expressed from many years of real world experience. It was notable that the 35 attendees including speakers seemed to feel that they had all learned something in the process and that Fenestration Manitoba had delivered really solid value to its members, particularly as it relates to review existing policies and procedures and adapting them to some newer realities. Again, best expressed by attendees:
Neil Neufeld, production manager at Polar Window: "Always good to listen to speakers who can relate the message by using their own real-life experiences. This panel related their experiences very well into the discussions."
Jim Neirinck: "Pulling in the panel of 'experts' specifically in the area of labour law and HR, to go over actual legal cases on social media, cannabis legislation and on real world HR policies and application provide a unique opportunity for those present to have access to local professional and leaders in these fields. It made me think about the gaps and challenges in our workplace and what is needed to close those gaps. It was an excellent sharing of knowledge and expertise, and more importantly a good networking event so those present now know who to call to help them with policies, processes, and procedures to stay ahead of a quickly changing world."
Of course, it was a perfect opportunity to highlight several up-coming activities including the June AGM which combines the event with a Goldeyes baseball game (a perfect view from the restaurant balcony!), the fall golfing event and the launch/move of FenCon19 (March 6-7) to a superior, downtown Convention Center location. The hard work in developing an industry association and its various related events/activities can sometimes feel like a thankless job but then there are occasions when it feels like it very much was worthwhile. This was one of those occasions!
For more information
Fenestration Manitoba website
---
Print this page