September 21, 2021 By NGA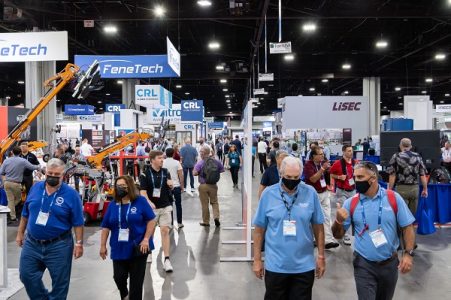 GlassBuild America: The Glass, Window & Door Expo was back in Atlanta last week for the first time since 2019. The largest annual industry trade show in the Americas drew 5,100 enthusiastic participants to its 114,874-net-square-foot exhibit floor. The event drew attendees from 47 states including Hawaii and Alaska, plus Puerto Rico. Attendees from Canada and 34 other countries were also in attendance.
With fewer exhibitors than usual due to the global pandemic, and pre-registrations tracking lower than normal, the National Glass Association (NGA), organizer of GlassBuild America, and exhibitors alike were pleased with the final participation.
"The attendance and energy on the show floor exceeded our expectations," said Nicole Harris, NGA president & CEO. "We are grateful to everyone who made the extra effort to show up in person to see each other, their suppliers, and the most exciting products and services our industry has to offer. Having such a good turnout is a testament to this industry's resilience and forward-thinking attitude."
The next GlassBuild America will take place October 18 – 20, 2022 in Las Vegas. Other upcoming NGA events include NGA Glass Conference: Long Beach, Jan. 24 – 26, 2022 in Long Beach, Calif., the Building Envelope Contractors (BEC) Conference, March 27 – 29, 2022, taking place just prior to Glass Processing Automation Days (GPAD), March 29 – 31, 2022, both in Nashville, Tenn.
---
Print this page