Articles Community Events & Shows
In praise of WinDoor – a veteran attendee says going is a "no brainer"
October 15, 2018 By Al Dueck Duxton Windows and Doors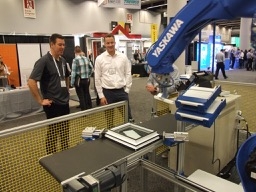 The Canadian WinDoor conference and show plays an important role in our industry and deserves our support. This is particularly true with the strong winds of change we currently face, such as evolving technology and the demand on all of us to better respond to environmental pressures.
WinDoor is one of the few national events that attracts attendees from all parts of the industry. You can meet manufacturers, retailers, suppliers, and other industry professionals from across Canada and the world. (I've only missed one WinDoor in the past 18 years and that was due to a key family event – the birth of my first grand daughter.)
WinDoor offers excellent "bang for the buck," and offers a great return on time invested by attendees. You can meet some of the best experts in the industry if you attend educational sessions and speak with people. The seminars cover a wide range of topics including codes and regulations.
At WinDoor you can learn about the latest industry trends, but you need to "poke around" the more than 150 booths on the exhibition floor and find the hidden gems.
You can learn how to incorporate the latest production techniques to your business, which helps make your company more competitive and successful.
You also have the opportunity to add the possibility to visit a supplier or learn from another manufacturer through a pre-arranged factory visit in the Québec City area. You can do this at little extra expense.
Attending WinDoor also helps maintain the health and relevance of Fenestration Canada, our critical national organization. As participants in the industry, I believe each of us has a level of responsibility to "give back." We should all be active and not rely on the efforts of a select few.
Codes and regulations sound like a burden, but they have the potential to provide some protection for the manufacturer, and also additional marketing advantages as it adapts the current regularity environment. The North American Fenestration Standard changes the rules for how windows, doors and skylights are tested and rated in Canada. NAFS is here in a constructive way and if you want to be "on side" and implement it properly, attend WinDoor to learn and profit.
Energy Star and other forward leaning concepts on a step stone type of road towards every higher performance levels are additional topics to gain some insights in Quebec City.
True, WinDoor involves an investment of time and money, but like any other educational component, progress has a cost. If we take our industry seriously, such investment is a necessary element. WinDoor has been moving between cities the last few years, which adds another attractive element to the event. Slight regional shifts such as moving to Quebec City tends to introduce new suppliers with new ideas.
Quebec has quite a variety of window manufacturers and suppliers including automation equipment. (Information on this can be easily accessed through www.windoorshow.ca)
WinDoor management has created more hospitality and networking events, ranging from an evening party to visits to interesting parts of the very historic Quebec City. However, don't delay. Book a hotel central to Old Quebec City and enjoy some very walkable parts of a Canadian city with a European feel.
---
Print this page