News
Kevin Pelley honoured with C.P. Loewen Award by Fenestration Canada
June 8, 2017 By Patrick Flannery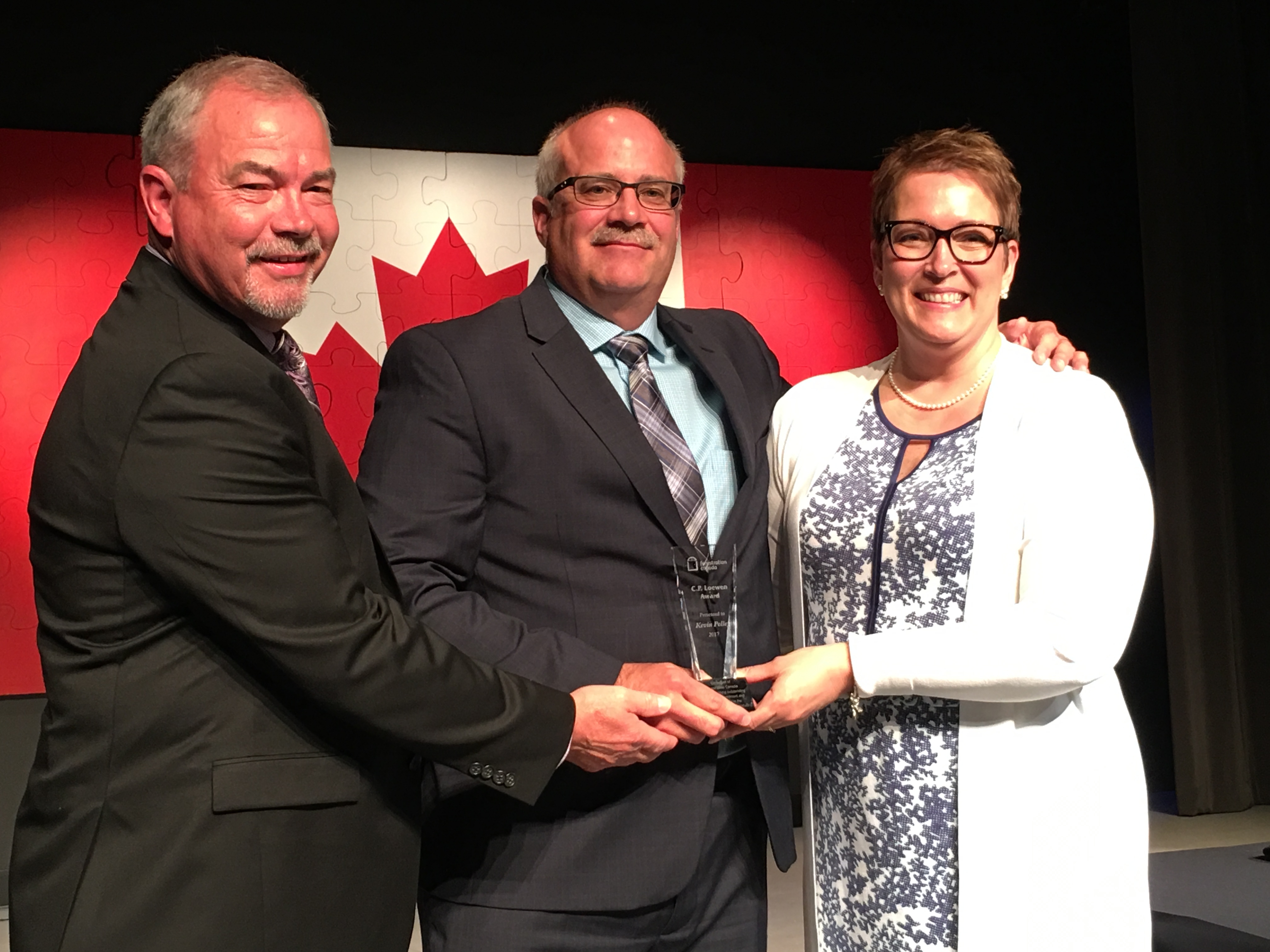 Kevin Pelley, president of Kohltech International, was recognized for his contributions to the industry with Fenestration Canada's C.P. Loewen Award at the association's Annual General Meeting on June 2. Longtime industry friend, George Warren of Centennial Windows and Doors, presented the award along with incoming Fenestration Canada president, Lisa Bergeron of Jeld-Wen.
Pelley was visibly surprised to be receiving the award, though he admitted in retrospect there had been signs. In his introduction, Warren pointed to Pelley's tireless dedication to the association and innovative vision in running Kohltech.
Born and raised in Halifax, Pelley is a graduate of Dalhousie University with a Bachelor of Civil Engineering and Saint Mary's University with an MBA. He has 35 years of experience in business working in a variety of fields including technical sales, marketing, sales management, operations, distribution and human resource management. Pelley is the president of Kohltech International, based out of Debert, N.S. Kohltech trades under the Peter Kohler Window and Entrance Systems, Kohltech Windows and Entrance Systems and McLeod Windows brands.
He is past president of the Canadian Window and Door Manufacturers Association and served on the Fenestration Canada board of directors for 13 years, including time spent as president, past president and most recently treasurer. Pelley is a past chairman and founding member of Fenestra Co-op; a past board member of Children's Clean Air Network; a past board member of the Atlantic Building Supply Dealers Association; a past chair of Cobequid Community Health Centre Grand Day Event; a founding member of the Bedford Minor Hockey Player Assistance Fund, and has served on the executive of Fall River Minor Football team and is on the coaching staff of the Lockview Dragons High School Football Team.
Kevin has been married to his wife, Bea, for 26 years and lives in Oakfield, N.S., and has two sons – James, 21, and Jerrod, 24. Kevin enjoys boating, coaching, a little golf and spending time with his family and his dogs.
---
Print this page