Articles Association News Community
Out for a flog: Fenestration Manitoba honours Toker at golf tournament
September 28, 2017 By Jim Chliboyko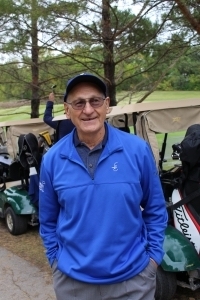 The rain held off long enough for the 2017 Fenestration Manitoba Golf Tournament held on Sept. 19. Over 50 industry representatives gathered at the St. Boniface Golf Course amongst the turning leaves and migrating Canada geese. The evening's dinner acknowledged the day's best (and least best) golfers.


The winning team was Green Brand Home Energy Solutions, consisting of Anders Brandstrom, Pat Medd, Patrick Thibert and Logan Thibert, who all took home new pairs of golf shoes. The day's highest scorers, and winners of golf lessons, were Al Dueck (Duxton Windows and Doors), Sean Kapusta (Hi-Tech Windows), Ted Paetkau (Fenestration Components International) and Jayme Tilley (Screenco Manufacturing). There were no holes-in-one on the 18th hole on this day, for which the prize was $25,000. Todd Toker had the longest drive of the day and Cory Toker won the putting contest, both of Collins-Toker Agencies, while Bill Weske of Sika Canada won the tee-guessing game.
The dinner was also the start of something new, honouring Roland Toker, of Collins-Toker Agencies, as the inaugural member of FenMan's Founders Club.
"The real key point in this recognition of a builder is Roland's role in spearheading the founding of this organization some 25 years ago," said Al Dueck, past-president of Fenestration Manitoba, during the induction.
Citing the organization's very first outing to the Marvin Windows plant in Warroad, Minn., Dueck said, "Roland stumbled into the idea of an outing when he observed a number of people arriving at a manufacturing plant in Warroad. Finding out that it was a fairly typical thing, Roland asked if he could bring a group of Manitoba manufacturers and the answer was immediately 'Yes.'"
Said Toker earlier in the day, prior to tee-off, "The funny thing was that when we were loading the people on the bus, nobody knew each other. The industry was strange to each other. The owner of one company didn't have an idea what the face of the next guy was. That's the very first time. Since then, the tournament has brought people together and the competition knows each other, but in 1990, they didn't know.
"Marvin Windows broke us up into groups of 10 and did the plant tour, so people got to know each other a little better. And I arranged the teams so that no two people from the same company would play together, they had to all be playing with strangers. So, on the bus there, the bus was quiet; people were not speaking, they're not talking a lot. On the bus back, after they all got to know each other and had a few beers, you could have shot a cannon off in that bus. And even when we were going through customs I couldn't get them to quiet down."
When asked if he was much of a golfer, Toker – who was wearing a lucky Bob Hope Classic pullover – downplaying his skill, saying, "You've got to remember, golf spelled backwards is flog. So I have days of flogging and days of golfing."
For more information
fenestrationmanitoba.ca

---
Print this page