June 18, 2019 By Al Dueck Duxton Windows and Doors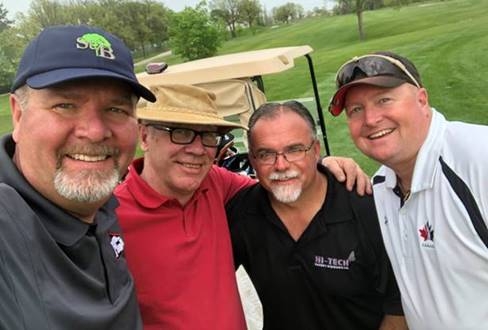 Sixty-four golfers (and some additional supper guests) were lucky enough to enjoy some amazing summer weather with clear blue skies during the
2019 golf outing at the St Boniface Golf Course for the second year in a row. Conditions on the course were excellent and based upon early feedback, the participants simply enjoyed an outstanding day! Amazingly, Roland Tokar, Tokar Agencies, stepped up again to assist with the front promotion of the event following the very first such event some 25 years prior.
Dinner was served by the staff followed by a short set of official activities – led by Tony Novelli, Loewen Windows – including the introduction of the 2019 members of the board : Gary Glowa, Inkster Park Millwork; Jim Foreman, Newco Corp (formerly North End Weatherstripping); John Zadro, Omniglass, Hardy Rahn, Alliance Door Products; Lisa Bergeron, JELDWEN; Bryon Boyle, Intertek; Brent Otsuji, Armwood Windows & Doors; Eduard Braun, Fentro as well as acting president Al Dueck. Nancy Zubruski, Executive Director, and her team of volunteers once again did an outstanding job organizing all the details.
Tony Novelli highlighted quite an array of achievements by theFenMan team over the course of 2019 and Al Dueck presented an overview of the opportunities that exist with the growing FenCon event, now planned for 2020 in late February! FenMan was once more fortunate to enjoy the strong event support from a wide range of suppliers. Numerous supporters such as Cardinal IG, Quanex, JELDWEN, Acrylon, Omniglass, Screenco, AdFast and Federated Insurance have been longer term, repeat investors in our industry.
---
Print this page