Everything you need to offer your customers the best in entrance doors.
June 22, 2018 By Fenestration Staff Report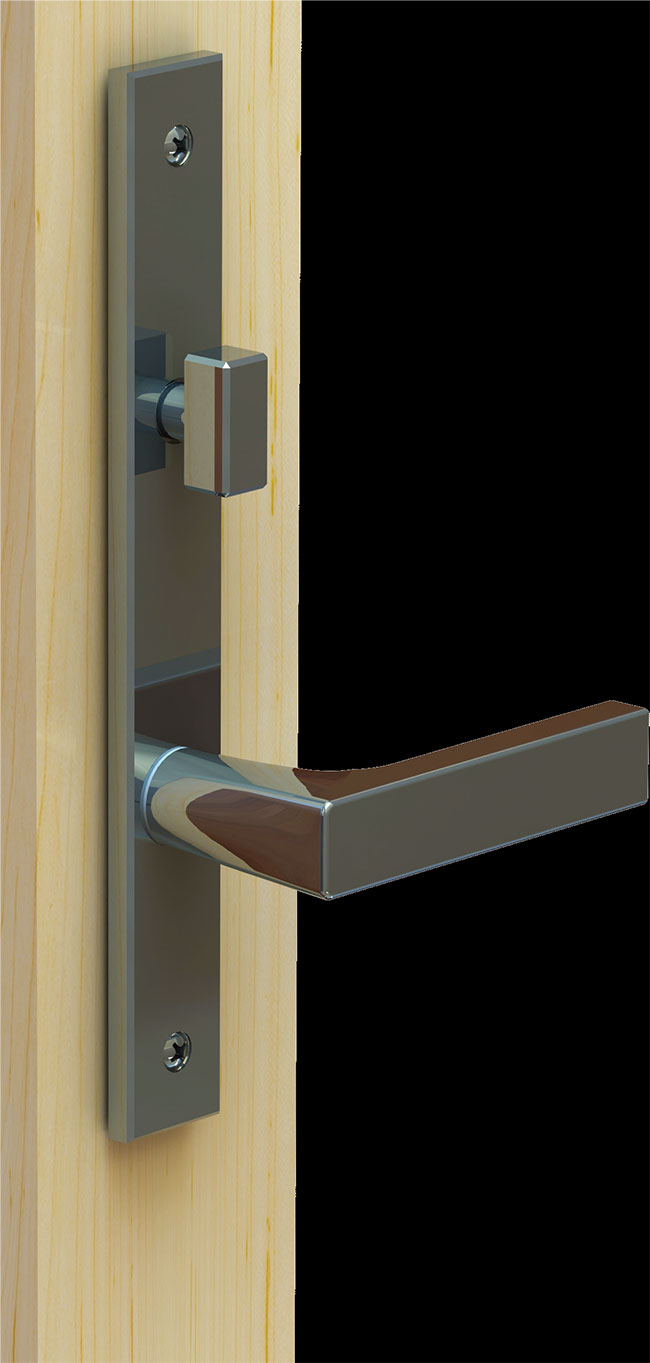 Top suppliers to Canada's door industry shared some of their latest product innovations.
All-vinyl system
evw.ca
The Dr. Hahn door system from Euro Vinyl Windows is an all-vinyl door system based on the tilt and turn platform. It includes hefty steel reinforcing, a full perimeter gasket system on the frame and sash, multipoint locks on the full height of the door, face-mounted Dr.Hahn hinges and any colour and size requested. The door does not come in standard dimensions – each one is made-to-order and looks flawless. It carries a sleek overlap sash that covers the frame and the gap between frame and slab. It's a full glass door with an 1 3/8-inch-deep triple glazing cavity.
---
Shadows as design
odl.com
The new Dialogue door glass line from ODL includes two new designs, Repartee and Whisper. Repartee's frosted layers combine with a geometric grid of shapes to create lively interaction that changes depending on the vantage point and the amount of light. This design plays with both movement and opacity. Whisper features scrolled patterns that introduce the refined and graceful qualities of calligraphy to door glass. A play between frosted and clear glass layers creates gentle, quiet movement. Dialogue layered glass uses ceramic frit patterns across three layers of glass to create captivating patterns that change based on light and vantage point. Six dynamic patterns are available in all with varying levels of privacy. Daylight shining through the glass layers creates a unique design element in cast shadows.
---
Can handle the big ones
rotonorthamerica.com
The new RotoFasco Secura 9100 sliding patio door handle features a contemporary design that will offer esthetic appeal for customers who desire a modern look. The sleek design of the thumb turn above the lever offers ready-access to lock and unlock the door, and the 13-inch-long handle will support the growing height and width of patio doors. The 9100 handle is available in a wide array of colour options, including corrosion-resistant powder coat and satin nickel architectural finishes.
---
Focused on comfort
fentro.com
Siegenia hardware solutions combine intelligent product details with numerous options for saving both time and costs during the production process. In Canada, Siegenia products are distributed by Manitoba-based Fentro Technologies.
From esthetics and design through safety and protection up to indoor air quality, spaciousness and ease of use, the consistent implementation of different aspects of room comfort is always the focus of any development of new window, door and comfort systems at Siegenia. To do this, this owner-operated company, now managed by the fourth generation, not only relies on close cooperation with its customers but also on a distinct system concept and a holistically conceived interplay of solutions which reconciles innovative technology and economical fabrication with high-end user benefit. Siegenia Group's products largely focus on safety and security with lines focusing on standard and electronic locking for external doors, automatic closers and locks, mobile systems for home automation and intruder protection to name a few. With such other products as wall and window ventilators, home comfort is also a priority.

---
Product protection
lamatek.com
Lamatek has introduced Protek surface protection film to safeguard glossy and semi-matte surfaces against dust, scrapes, surface contaminants and ultraviolet for up to six months. New masking films protect bare metals, pre-coated metals, aluminum profiles, glass and more during production, installation, shipping, and handling. Protek surface protection films use high tack, residue-free adhesives that remove cleanly even after extended outdoor aging. Lamatek carries a range of Protek films designed to offer varying levels of UV resistance on window and door profiles, appliances, cladding board, glass and mirrors, architectural metals and aluminum extrusions. As a custom converter and fabricator, Lamatek can slit rolls of film to specified widths for indoor and outdoor protection on a variety of components.
---
Simplified installation
lauren.com
Lauren door seals offer easier installation and improved performance. In window and door sealing systems, corners are often the area most susceptible to leaks. Lauren Manufacturing has engineered continuous seals to overcome this challenge.
Available in custom or standard profiles, these seals are designed with the flexibility to wrap a corner with compression properties that require minimal closing force. As an added benefit, customers are able to improve installation by eliminating cuts or splices during assembly. Lauren's door seal offers an example of how manufacturers can simplify installation while achieving higher sealing performance. This continuous corner seal has a rigid support for easy kerf insertion and a leak-proof design. The door seal can be used on all pertinent sides of the door: header, hinge and strike side. Manufactured from closed-cell sponge EPDM, the door seal will not absorb or wick water and exhibits excellent weather, ozone and ultraviolet resistance. The EPDM material is stable in high and low temperatures, which allows it to maintain excellent compression set properties in all weather conditions. A low-friction coating is applied to the surface to ensure minimal coefficient of friction and provide protection against abrasion. Lauren's standard door seals are available in various profile designs and multiple colors including black, white, bronze and tan. Lauren engineers can also develop custom solutions for your application's unique conditions.
---
Accommodates thicker doors
amesburytruth.com
AmesburyTruth has introduced its Sentry 45.63 contemporary handle. This sleek modern design provides a contemporary look that is sure to compliment your door system. Featuring industry-standard spacing between the handle and thumb turn, the Sentry 45.63 offers longer spindles and mounting screw kits to accommodate today's thicker doors. The thumb turn is located above the handle to allow for easy access to the key cylinder and can also be inverted for European-style locking. Extended bosses on the interior escutcheons enhance the handle's stability and the straight-line design makes it easy to grasp. The handle set is available in both plated and painted finishes and is compatible with vinyl, composite, aluminum and wood doors. The Sentry 45.63 incorporates elegant, modern, and contemporary styling and homeowners can carry the look throughout the home with many contemporary products now available from AmesburyTruth.

---
Hurricane survivor
ferco.ca
Homeowner safety is Ferco's priority with the new G-U Secury automatic multipoint door lock. Featuring European technology with North American intuitive operation, the multipoint lock comes with a new Roma handle and 55-millimeter plate. The G-U Secury has survived Hurricane Irma, a Category Five storm, for real-life, maximized testing in the field.
---
Local availability
regalead.com
RegaLead has supported its expansion into Canada by extending its range of door lites, with 13 new designs available in a range of standard sizes. The new designs have been designed specifically for the Canadian and North American market, reflecting styles and trends popular here. RegaLead's door lites offer a wide range of choices with a number of different decorative features, such as etching, lead, bevels and jewels, and colour. With so many doors using the same basic slab designs, decorative glass is one area where companies can differentiate and offer something different. With more than 30 years of decorative glass experience in the U.K. and with an already strong export operation to Canada, last year RegaLead opened its first overseas subsidiary in Vaughan, Ont. As well as door lites and decorative glass, RegaLead also supplies its ColorSpray colour-coating system. Their new facility in Vaughan allows it to carry the full range, in stock, for delivery across Canada and the U.S.
---
Print this page