October 21, 2014 By glass Canada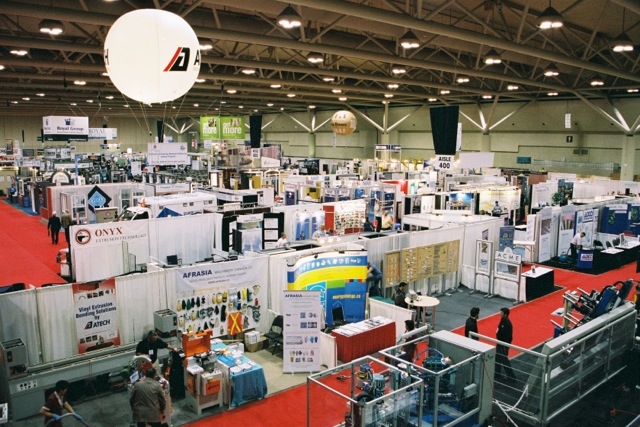 Oct. 21, 2014 – Here's a sneak peek at some of the products you will find on the show floor at Windoor 2014, Nov. 18 to 20 at the Metro Toronto Convention Centre, South Building. See you there!
EPDM kerf seal
Booth: 1536
aribell.ca
The Aribell Dual Durometer continuous EPDM kerf door seal is designed as a high-performance sealing solution for entry door systems. Known for its natural ultraviolet resistance, superior compression set and excellent weathering resistance, the new door seal is co-extruded using closed-cell EPDM sponge and dense material with a rigid base for easy insertion. A low-friction coating is applied to the material, offering abrasion resistance and a low co-efficient of friction. The Dual Durometer allows for a continuous seal at the corners for inswing doors on all three sides. It is tested and passed up to DP 55 under the 2010 Canadian Building Standard and 2011 NAFS. Available in 170-foot rolls in white or black.
---
Streamlining sales
Booth: 1416
wtsparadigm.com
As an established leader in configuration, quoting and ordering technology for the building products industry, WTS Paradigm continues to improve upon CenterPoint, the configurator that manufacturers, dealers, retailers, lumberyards, distributors, and contractors trust to build and quote complex building products. WTS Paradigm has collaborated with customers and end-users to take the configurator and make it even better. By using CenterPoint, we see reduced catalogue maintenance of 25-30 per cent by leveraging multiple sales channels, decreasing time to market and enriching the end-user selling experience across selling channels. Our easy-to-use interface helps end-users spend less time creating a quote and more time selling. WTS Paradigm offers harp industry focus, the ability to scale products, increased speed to quote, a strong dealer presence and one catalogue everywhere. On display at Windoor will be the mobile iPad selling solution, TouchQuote. TouchQuote enables end-users to quickly configure products, compile alternate quotes, collect the signature and seal the deal.
---
Style and function
Booth: 1413
everlast.biz
In a new twist on a classic door, the new 2 1/4-inch Modern storm door puts a clean, modern look on the classic storm door. Homeowners no longer have to sacrifice style to protect the front door and let in natural light. Everlast has removed the extrusion lines from the classic model and created a sleek new look that is clean and fresh. Even the installation screws are covered. Available in a pallet of nine colours with styles ranging from full glass to retractable screen, users can make a statement or simply let in natural light and ventilation. For the extremely style conscious who love high curb appeal, the door is also available in vinyl and can be painted in just about any colour to match an existing door or provided together with an entry door. Vinyl doors are fully reinforced with aluminum throughout the frame and include steel reinforcement in and out on all four corners. The vinyl version comes standard with an Elite lever handle. Other features include a heavy wall extruded aluminum frame, self-lubricating hinges, diecast internal miter corners, a durable baked-enamel Duracron finish, a heavy-duty torsion bar closer, included installation hardware, tempered safety glass, a triple rubber sweep, available retractable screen, a standard DX handle in brass or silver or an available Elite lever handle with keyed deadbolt.
---
High-rise rated
Booth: 1301
royalbuildingproducts.com
Royal Building Products is pleased to introduce the Altitude Window Series, the newest generation of windows for commercial and high-rise, multi-family applications. The Altitude Series, available as a casement, awning, hopper (tilt) or fixed window features extruded aluminum profiles on the interior and exterior or exposed surfaces. These are connected to a proprietary engineered material called Performance Core. Engineered for superior performance, the Performance Core thermal insulation system offers low thermal transmission and high structural performance providing energy cost savings, longevity, durability and great looks.
The Royal Altitude Window Series is tested to AAMA/WDMA/CSA 101.I.S.2/A440-08 standard. It achieves the CW classification making the system the perfect fenestration solution for mid-rise projects for multi-family occupancy. The combination of the optimized one-inch overall glazing reduces energy consumption, increases interior comfort in all seasons and contributes three points to LEED projects. The system is very flexible in terms of design. Combination windows are achieved using either structural mullions with continuous frames or modular construction. All mullions can be reinforced to achieve the required structural performance for the geography and building exposure. Air and water tightness are improved with multiple continuous flexible weatherstrips. The glazing cavities are positively sealed to the interior and vented to the exterior for quick and positive water drainage.
---
Stainable composite
Booth: 1536
aribell.ca
The new Aritech woodgrain stainable composite program from Aribell is Aritech's complete program to enhance fibreglass doors. Aritech composite is 30 per cent more dense with 135 per cent stronger screw retention compared to competitive brands. Aritech closed-cell poly‐fibre composite material will not absorb or wick moisture and is resistant to mould, mildew, fungus, salt, chemicals, insects and pollutants. It can be stained, painted, nailed and machined as easily as wood.
---
Solid wood doors
Booth: 1413
everlast.biz
Napa Valley Doors by Everlast are the newest addition to the Everlast Group. Napa offers handcrafted all-wood doors that embody the unsurpassed elegance of the stunning wine country of California. All doors are handcrafted from real solid-wood planks in our facility on Carlingview drive in Etobicoke. Napa offers solid wood doors or accented with glass adorned with wrought iron or plain according to your customer's choice. You can also add sidelites and choose the glass that best suits the look your customer wants. For those who appreciate true quality and craftsmanship, Napa Valley doors are sure to impress and satisfy even the most discerning customers. Our doors have been showcased on the Princess Margaret Lottery home and some of the most sought-after custom homebuilders have also trusted their entryways to Napa Valley Doors by Everlast. Napa doors are available in mahogany, walnut, white oak, red oak, cherry and cedar finishes. Up to 42-inch door slabs are available with custom sizes. Each door features mortise and tenon joints plus four-inch dowels for added strength. Made with engineered panels with solid wood, Napa doors are 2 1/4-inch thick as standard. Applied mouldings are also standard for easier replacement than cracked panels. The doors come with a 1 3/4-by-6 5/8-inch-wide jamb and a 9/16-inch rebated door jamb. The mullion post is 2 1/4 inches and the casing is 3 1/2 inches. Decorative hinges with ball bearing tips are standard, as is a black anodized adjustable sill. Napa doors also include a concealed door sweep, neoprene weatherstripping, preparation for a mortising lock, one-inch-per-side exterior brickmould and a pre-stained finish.
---
3D printers
Booth: 2024
proto3000.com
3D printers are becoming the new standard in product development and manufacturing. Imagine production without the oppressive costs and time requirements of tooling. Users can make changes quickly and affordably at any stage in the production cycle. Create low–volume assembly fixtures and jigs directly from CAD data. Additive manufacturing is where the world is going, and the truly transformative 3D production systems from Proto3000 can help you get there.
---
Print this page