Articles
WinDoor showcase: a preview of fenestration products you can pick up at the Fenestration Canada's event
October 13, 2022 By Fenestration Staff
The latest technology for window and door manufacturers will be on display in Montreal.
Complements any home style
canada.odl.com
ODL's new Ryder doorglass is the latest in stylized doorglass in ODL's collection. This contemporary design has crisp lines, clean textures and interesting patterns, resulting in a mesmerizing statement piece for any modern entryway and privacy for the home. The wide black aluminum caming provides visual contrast and makes a bold statement. With the variety of sizes available, Ryder complements any home style, from craftsman to transitional to modern. Available with Zeel, Evolve and Craftsman frames.
---
Predictable closing forces
ultrafab.com
Ultrafab's microcellular foam seals feature new technology that offers superior overall performance. The weatherseal technology features high compression set resistance, weatherability and colour stability. The thermoplastic foamed interior of the seal also provides consistent low closing forces that can be tailored to application needs. Microcellular foam reduces noise and eliminates dust, water, and air movement, has excellent compression set resistance for minimal loss of functional height over time and provides consistent and predictable low closing forces. It's suitable for all climates.
---
Strong service commitment
nucoat.ca
NuCoat is a coatings provider, accommodating unique demands and needs of its industrial clients. It offers high-quality water-based products focused on performance, with a concentration on the building industry and various applications. Equally important, NuCoat provides reliable fulfillment and logistical services, delivering product to clients across North America, consistently on time. NuCoat's coatings are one-component, user-friendly, and meet the most aggressive performance standards.  With labour shortages only getting worse, NuCoat products process in manual and automatic operations with full performance and coverage in the first application. One-component, water-based systems create little to no waste, less mistakes and less risk for field issues. NuCoat has specialized in this industry for over 10 years and has accumulated significant know-how that is shared day in and day out with clients. Customer service is a critical element of their offering. Technical support, hands-on product training, assistance with application technologies and ad hoc problem solving complete the overall product and service proposition. NuCoat has expanded operations to a new location in Mississauga, Ont. With this new location, it can better serve Canadian clients with premium customer support and delivery.
---
Organized administration
klaes.de
Klaes provides innovative three-dimensional software solutions for windowwall, curtainwall, sunrooms, interior patricians, windows and doors including all elements for glass manufacturers. Klaes software provides everything needed for the efficient production of high-quality windows, doors, facades and conservatories. North American customers are served from sales and service office in Toronto. Over 35 years of experience make Klaes a world market leader in its branch. Klaes organizes business. One of the main tools for the successful organization of a company is the Klaes order administration tool. Ruler-to-scale CAD profile sections are created with just a few clicks in the Klaes software. In the highly flexible order administration, all documents and items can be managed, just as it is required by different construction phases and installation dates. This is the first important step to ensure an appropriate planning, disposition, production and delivery.
---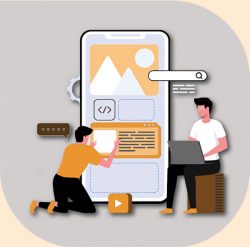 Futuristic, innovative, affordable
evawinoptimize.com
Evolutionary Algorithms was established in 2009 with its founders having a decade of experience and expertise in fenestration and a vision to provide affordable and customizable software solutions to the door and window industry. Today, with over 1,800 clients and more than 7,000 users, EvA is a solution provider of cloud-based window and door fenestration ERP software that is futuristic, innovative, customizable and affordable. Eva-Cloud is an all-in-one ERP solution for window and door design, quotation, manufacturing, installation, machine linking and automation that can be accessed from multiple devices and used by all stakeholders including sales executives, dealers, surveyors, system suppliers, manufacturers, installers, shop floor managers, store keepers, architects, and builders in a centralized manner. The cloud platform offered as a Saas solution is very user-friendly, enabling even an unskilled workman to fulfill his role in the organization's upgrade and automation plans. The software is designed to be customized and tailor-made to customers' specific needs and its scope extends to any series of aluminum, uPVC, PVC, timber and steel doors and windows. Eva Cloud provides in-built CRM that helps to manage leads, increase sales and get detailed analytics while increasing efficiency and productivity. With the ease of Eva Cloud's unique drag and drop features, users can design doors and windows for any scale of projects. The software provides profile optimization, production calculation, stock management, batch management, survey and installation management, invoicing and cost management. Its automation capabilities can be used for machine linking to provide any level of automation, and hence better utilization of manpower.
---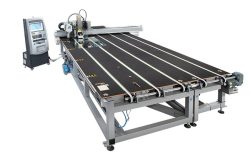 Multi-tool productivity
bottero.com
The Evo cutting platform is the top of the range of Bottero cutting systems, offering high performance and flexibility. Thanks to the option of equipping the machine with two additional tools beside the cutting tool, Evo systems can be also equipped with low-E glass grinding and laser marking or labelling of the processed piece. This option makes the Evo system ideal for forming part of the automated and controlled production flow, which is typical in advanced window, door and glass fabrication factories. The Evo range stands out due to its modularity and versatility, thanks to which the float cutting tables can be totally custom configured according to specific customer requirements: from stand-alone cutting tables, up to intensive high-automation-level production systems with fully integrated lines including stock management, loading, low-E grinding, labelling, cutting and automated breakout modules.
Each constructive and functional feature of the Evo range is designed to ensure extreme processing precision and maximum productivity for each specific production requirement.
---
Break free of the office
windowmaker.com
Windowmaker Software, a leading software solutions provider for the window and door industry, will launch its Windowmaker on Cloud product at WinDoor. Users can create customized window and door designs faster and easier than ever before, avoiding frustration. Windowmaker on Cloud is designed as a powerful tool with a wide variety of customization options. Security and availability are assured because data is hosted on Microsoft Azure, a popular cloud computing platform. Windowmaker has exhibited at every WinDoor except in the pandemic. Windowmaker's Cloud products are driven by the same powerful configurator and intuitive interface as the desktop programs. Users are freed from the confines of their offices and can lower their IT infrastructure costs. Cloud products are offered on monthly subscription payments.
Windowmaker software works seamlessly with vinyl, aluminum, fibreglass, timber, steel and composite materials within one program. Manufacturers, retail/commercial dealers and trade installers will also appreciate the depth of functionality that includes quoting, purchasing, production, delivery, and installation.
---
Fast drilling
protomach.ca
Propva is equipment designed to take advantage of the post-weld cooling time to make positioning holes for hardware. The main drill is able to accept two different tools and to rotate 360 degrees, allowing drilling on the four sides of the welded square, inside and outside. It's a CNC station to process welded PVC profiles. Users have the option to work in two zones alternately to accept two shutters. All operations are managed from the Schneider 18-inch touchscreen installed on an independent console. The control interface is simple and user-friendly for the operator. Designed to fit between a welder and a corner cleaner, the Propva can also be used in stand-alone mode. This equipment can be interconnected with other products, subject to verification. Propva can bring shops into Industry 4.0 with enhanced production flow, inventory management and maintenance alerts. Propva staff will evaluate needs and support clients in their goals with capabilities to design, cut, weld, assemble and program an entire project before shipping. Also, the software is entirely programmed by the Propva team with no subcontractors. Propva specializes in windows, patio doors, entry doors and garage doors with a team of dedicated people known for flexibility and ability to adapt to needs. The equipment is manufactured using North American components and backed by local suppliers and highly technical support staff.
---
Flush multipoint
ferco.ca
Ferco has introduced Fenix Evo casement hardware, updating its casement program offering groundbreaking recessed multipoint locking handles. The Evo line features a flush profile and screwless assembly that integrates into the user's window profile and prevents collision with curtains, among other advantages. The whole program now comes in stainless steel hardware including the operators, hinges, brackets and multipoint locks to achieve the highest performance to date for weight, cycling and corrosion.
---
Seven colours
adfastcorp.com
Adseal Production 4550 series is a neutral cure silicone adhesive sealant available in seven standard colours. This product is specially designed to meet the requirements of door and window manufacturers. Adseal 4550 is used on back-bedding, as well as cap, toe or heel bead.
It has excellent resistance to UV, can be used indoor or outdoor and does not give off any unpleasant odour during vulcanization. It is compatible with most common porous and non-porous building components and adheres perfectly to glass, most types of wood, clean metals, many painted surfaces and certain plastics.
---
Maximum IG life
tremcosealants.com
EnerSeal 332 is a butyl-based hot melt sealant, specially formulated as an applied perimeter sealant used to fabricate insulating glass units. EnerSeal 332 is the recommended sealant for use with Tremco's EnerEdge warm-edge spacer for maximum moisture protection as part of the complete EnerEdge insulating glass system. Features and benefits include maximized insulating glass unit life when used in conjunction with the EnerEdge warm-edge spacer by controlling and substantially preventing premature moisture penetration into the airspace.
EnerSeal is single component, with no mixing required and no purge waste upon application. It is solvent free with 100 percent solids. Suitable for use with both manual gunning and automatic application technologies.
---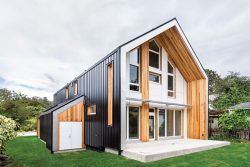 Built better
passivehousecanada.com
Passive House Canada is Canada's professional non-profit organization that advocates for and educates in the Passive House International high-performance building standard and leads the country's largest and most comprehensive Passive House education curriculum. Passive House new builds reduce energy consumption by 90 percent and 75 percent in retrofits, savings that extend throughout the life of the building. Applicable to almost any building type or design, the Passive House high-performance building standard is an internationally recognized, proven, science-based energy standard in construction. Certification ensures that designers and consultants are expertly qualified to design buildings to meet the standard. For individuals new to the industry or interested in learning about high-performance design, Passive House offers an eight-hour/four-day introductory level online course. This course provides an overview of the core principles of Passive House and examines the history, environmental impact and economics of the standard. A recorded copy of the course is available for participants after the live sessions. Passive House Canada members enjoy discounts on all Passive House Canada courses and events.
---
Easy to slide and lock
aluplast.net
Smart-Slide, by Aluplast, is a highly secure, easily operable and elegant patio door. It is designed and  positioned to a mass market and therefore is the perfect supplement to the lift-slide. It has been able to successfully address architects' aspirations to wider openings towards balconies, gardens and pools. The Smart-Slide excels not just in its generous dimensions, which open up to bring the outside into the inside, to bring the garden into the living space, but offers high-end security for large patio doors. With the Aluplast Smart-Slide both goals can be easily achieved given the dimensions up to six by 2.4 metres. Homeowners love the intuitive locking mechanism: the closing sash slides into the frame with a soft motion, making the Smart-Slide door so simple to use that it is virtually impossible to operate it incorrectly – and that is just as invaluable for day-to-day use as the low exertion required to open and close the sash. But it is not only easy to use. Smart-Slide also offers excellent sealing values due to the innovative locking mechanism and the high-quality sealing surfaces without brushes. Additional locking points offer outstanding sealing and even more security. The interplay between the various technical features ensures the smart-slide achieves extremely good sealing performance against air, wind and rain. Even very stable fittings at an innovative level can be used with the new Smart-Slide sliding door. This benefits not only the customer, but also the provider through fewer maintenance calls. The sophisticated mechanism of the new Aluplast sliding door also simplifies the hardware technology used. Also new from Aluplast is the Energeto Neo, an advanced tilt and turn system bringing a new generation of solutions addressing aesthetics/design, performance as well as environmental preservation.
---
Square frames
swissspacer.com
Swissspacer Ultimate ensures impressively low thermal conductivity at the edge of the insulating glass unit and is a superior warm edge spacer bar. This ensures correspondingly low U-values for windows and facades, together with energy savings for users. The warm edge avoids the formation of condensation and mitigates the risk of mould, thus contributing to much improved living comfort. Swissspacer also saves carbon dioxide and therefore supports the sustainable construction of windows and facades. Not to mention how Swissspacer also impresses in terms of its technology and looks. The high stability of the hollow profiles ensures an exceptional parallelism of the frame while the foil provides many years of functionality and a long service life. The matte surface avoids reflections. Thanks to the scope of supply including 17 different colours, the insulating glass unit can adapt to the appearance of any window. Providing proven capacity for different requirements, Swissspacer is designed for for more energy efficiency, the best living comfort and carbon dioxide savings. 
---
Fast forward production
grafsynergy.com
Graf Industries is bringing Graf Synergy's experience in PVC window manufacturing across the ocean to Canada. Graf Synergy has been in the automation business for more than 40 years, specializing in the design and manufacturing of machine tools for the PVC window industry and being recognized as the preferred partner for companies looking for advanced, efficient and reliable solutions. Huge investment in R&D has allowed Graf Synergy to develop a PVC window seamless welder, a machine that doesn't need any more corner cleaning, the SL4-FF EVO. It is an advanced machine with the exclusive patent V-Perfect technology that has introduced newer and higher production standards. Since there is no welding seam left on the corners after the welding process, the esthetics of the window is perfect, even when working with painted and foiled profiles. Also, the risk of manual mistakes is reduced to a minimum because there's no more need for manual touch-up and manual cleaning. Graf Synergy has also developed the Fast Forward Plant to optimize the entire production process flow. Graf Synergy's expert will study and design the best process flow based on the individual plant and requirements in order to optimize each square foot of the facility and bring huge savings in terms of space and personnel. Graf Synergy is a big company, with machines sold in over 60 countries. Graf Industries is the new subsidiary for Canada and USA to distribute all of Graf Synergy products. Machinery includes the mentioned welders, as well as high productivity cutting and machining centres, automatic screwing units, robot marker assembly units, working tables and so on, with the possibility to combine all together towards the Fast Forward Plant.
---
Your industry information source
fenestrationreview.com
Drop by the Fenestration Review booth at WinDoor to pick up the latest issue of Canada's magazine for the window and door industry and chat with the editor and publisher. Fenestration Review goes out twice per year to over 4,500 window and door manufacturers, dealers and installers across Canada. It ties the industry together with news, company profiles, association updates, technical articles and expert columns. Follow the Fenestration Review social media channels and download the Fenestration Conversations podcast for even more great industry content. 
---
Print this page