Articles Community Events & Shows
Window and door industry gathers in Winnipeg for Glass, A World of Change
October 26, 2017 By Jim Chliboyko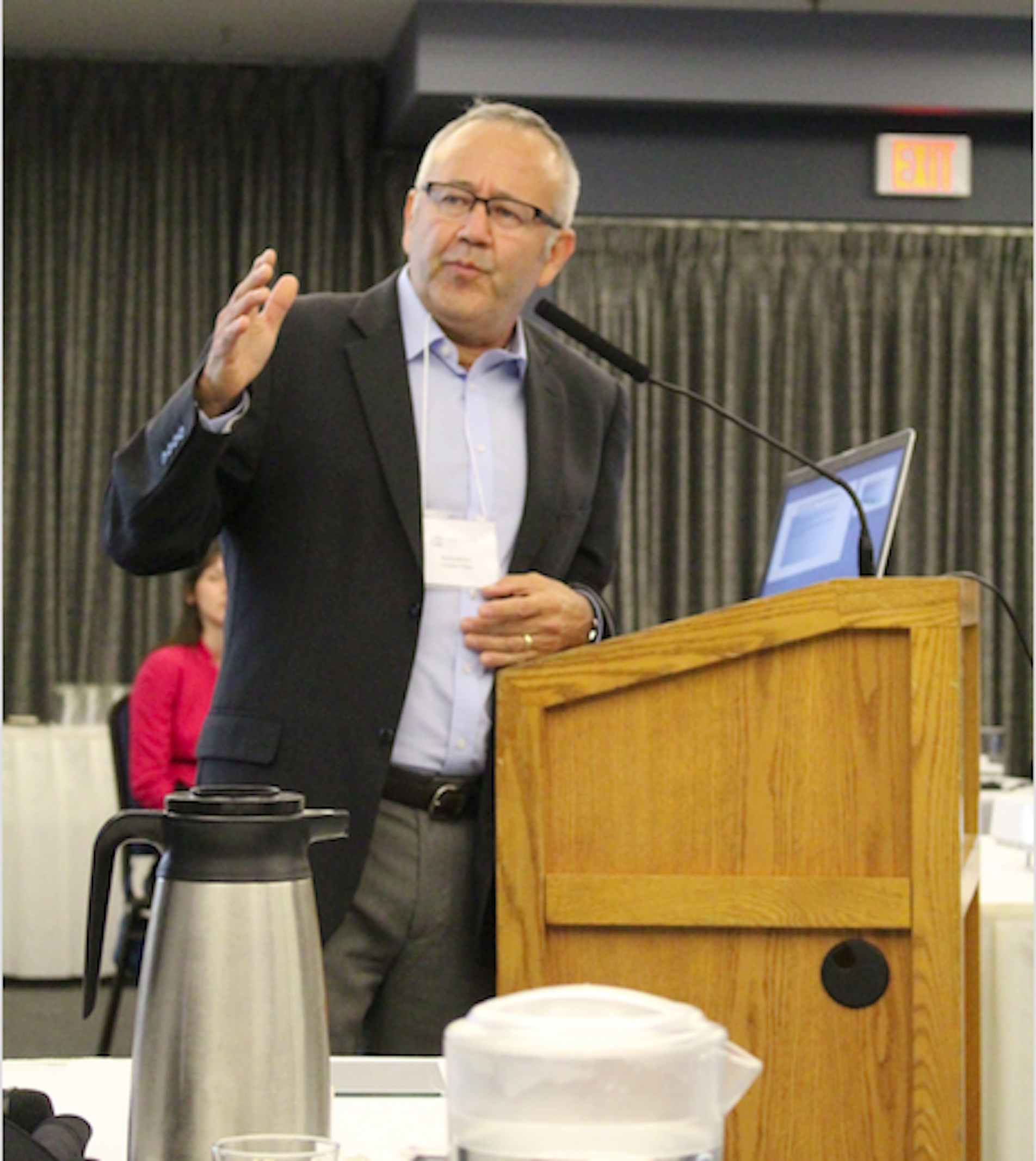 There was a heavy wind load morning–gusts of up to 90 km/h–when Fenestration Manitoba held the latest of its seminar series, entitled Glass, A World of Change, at the Norwood Hotel in Winnipeg on October 18th. Approximately 60 local industry representatives attended the breakfast seminar, featuring two American fenestration professionals talking about the present and future of glass, Raymond Roy, an Ohio-based regional technical advisor with Guardian Industries, and Jim Larsen, director of technology marketing with Cardinal Glass Industries in Minneapolis.


"Certainly when it comes to work on things like glazing and what you do with it and how you build it into things, it has a huge impact (environmentally)," said FenMan's past-president Al Dueck introducing the speakers. Citing the high use of air conditioning in the Canadian north, he added, "I think to myself, man, that sure has a reflection on what people are doing in placing glass, large areas of glass, facing west and south without consideration to what the impact is or how to work with it."
"From mostly residential type sales we do float glass, we do tempered glass, we do coated glass, we do laminated glass; we put it all into an insulating glass unit," said Larsen. "I think the interesting thing about Cardinal, is that we actually started off upside-down, according to this list. We were an insulating glass company, first and foremost, and when I started there, that's all we did. And then we got into low-e coatings as a way to improve the insulating value… and then we got into float glass… so from that, our company has vertically integrated but it's been driven by the insulated glass side more than anything else."
Larsen's Winnipeg-specific presentation went on to talk about the cold weather, sunlight conditions and u-factors and how the industry might want to deal with its extremes of climate. He called part of his presentation "kind of the physics lesson, giving you an overview of how we can improve windows and the build-up into today's type of performances that we want."
"The solar exposure in the summertime is very different from the solar exposure in the wintertime… so the thing you really want to be cognizant of on the windows is do you really want to take your customers and expose them to the hot window in the summertime?… This is the example of direct sun onto the high solar pane, low-e and getting hot glass. If you're going to be a viable passive solar designer, you have to understand where this stuff comes from."
Sometimes advances present their own challenges.
Said Larsen, "The interesting thing here is that as we move forward on the window design, as the glass gets better, now the frame is inhibiting us into getting the better performance then and that's where the challenge is on the design end, moving forward."
Raymond Roy said he was more of "an applications guy," and he focused more on the commercial side, as well as some of the terms relating to the commercial sides and contrasts between the residential and commercial markets.
After the seminar, Mr. Roy discussed one of his latest jobs, which he had name-dropped during his presentation.
"It was actually on the fifth floor that we had a manufacturing facility set up," he said of the Empire State Building retrofit, a job which has reportedly saved the building owners $400,000 in costs. "So, we had to have all the machinery actually shipped up in this old freight elevator, and some of it had to be taken apart. So I had 14 guys that had done glass but never really done this particular process. So (they) basically had on-the-job training. I was there for about six weeks, total… but I actually never got past the fifth floor."
Post-seminar, both presenters spoke of the benefits of meeting with industry stakeholders.
"I love getting out in front of groups like this. I think as an industry we need to get people to understand what's going on. And I always try to simplify the message down and not bury them in numbers," said Cardinal's Jim Larsen.
"Especially in this part of the country, is that we're asked to come up here… because we feel that I guess we're able to kind of share the commercial design approach," said Raymond Roy. "I know that this is not a high-rise type area, but also we want to be able to inform them on options and not just one-size-fits-all neutral—we want to be able to tap into some of their creative ability as well as promote our online tools. When our architecture design managers go and talk, they typically maybe have 15-20 minutes, that's it. That's what we hope to do, is be able to have a maybe more in-depth discussion, get into the weeds a little more. So that's maybe our objective."
Photos from the event available on Facebook.
For more information
fenestrationmanitoba.ca
---
Print this page