September 7, 2023 By Statistics Canada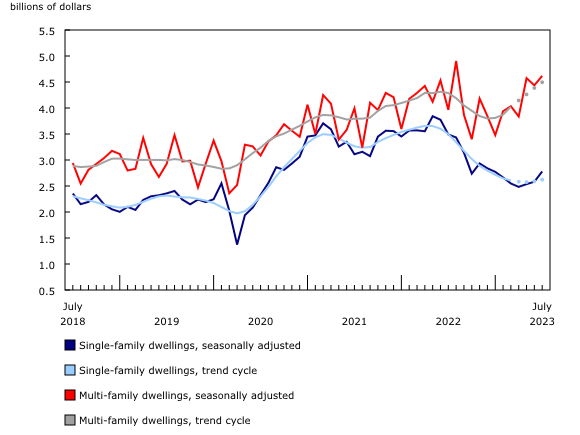 The total monthly value of building permits in Canada declined 1.5% in July to $11.7 billion despite a monthly gain of 5.4% in the residential sector.
On a constant dollar basis (2012=100), the total value of building permits was down 3.5% to $6.7 billion.
The total monthly value of residential permits increased 5.4% to $7.4 billion in July. Ontario (+23.9% to $3.5 billion) contributed the most to the rise in value of both single-family and multi-family dwelling permits.
Across Canada, July marked the third consecutive monthly increase in single-family home permits, up 7.6% to $2.8 billion. This prolonged uptick followed a year of trending decline in construction intentions for single-family homes from May 2022 to April 2023.
Overall, multi-family dwellings construction intentions led the residential gains in Ontario, Manitoba, Nova Scotia, Saskatchewan, New Brunswick and Prince Edward Island, the six provinces that posted growth in residential permit values in July.
Across Canada, permits for 22,300 new dwellings were issued in July. This amounts to a cumulative total of 150,400 new intended units in 2023, 10.9% less than the 168,800 new intended units from permits issued from January to July 2022.
---
Print this page