October 8, 2019 By StatsCan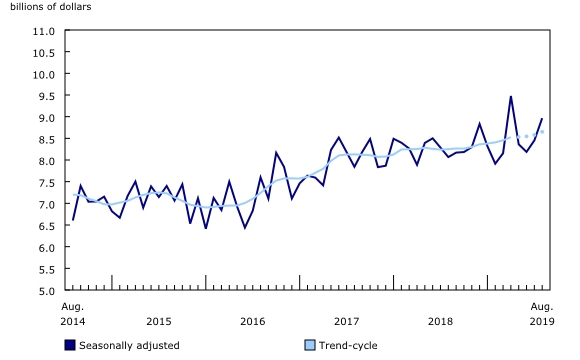 Oct. 8, 2019 – The value of building permits issued by Canadian municipalities rose 6.1% to $9.0 billion in August, largely because of increases in multi-family and industrial permits. Gains were reported in seven provinces, with over one-third of the national increase in Quebec.
Value of residential permits rises

The value of permits for multi-family dwellings rose in every province, except Nova Scotia, increasing 18.8% to $3.3 billion in August. Over half of these gains were in British Columbia (+$282 million), largely because of a high-value permit in the census metropolitan area () of Vancouver. Quebec also contributed to the increase, up $143 million compared with July.
The value of permits for single-family dwellings rose 3.2% to $2.4 billion nationally, led by Ontario. The of St. Catharines–Niagara issued a record high of $102 million in single-family permits, up $58 million from July. These gains were largely attributable to several developers filing additional permits prior to an upcoming increase in development costs in the region.
---
Print this page