November 21, 2023 By Patrick Flannery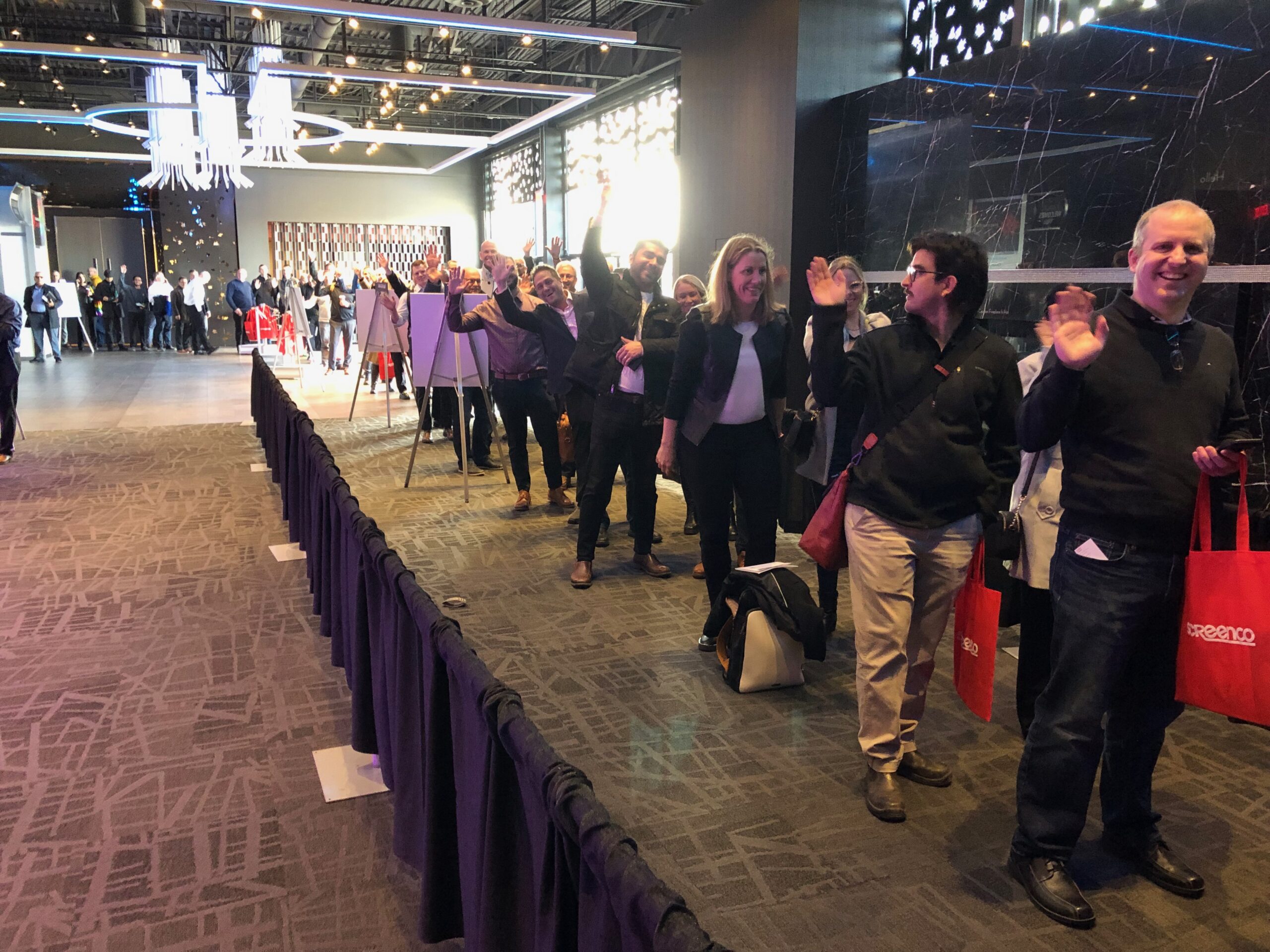 WinDoor, Fenestration Canada's national event for the Canadian window and door industry, went down Nov. 15 and 16, welcoming 1,700 attendees and over 100 exhibitors. Long registration lines, enthusiastic conversations and really top-notch education sessions characterized the days.
The education sessions were some of the strongest in memory, with Juliette Cook of Half Climate Design particularly leaving the audience wanting more of her expertise and research into embodied carbon in building facades. The Commercial/Residential panel of Adrian Edge (Innotech), Mike Bruno (Everlast) and Brett Lucier (Provincial Glass) featured a rollicking and free-flowing discussion that the moderator immediately lost all control over…which was a good thing.
The Main Event gala saw 450 diners gather at the Embassy Grand convention centre in Brampton for a fancy meal, open bar and presentation of booth awards and inductions into FenCan's Hall of Fame.
It's always great to see the leaders and mentors in the fenestration industry recognized for their remarkable careers.
Lifetime Achievement
Jeff Baker of Westlab will be familiar to anyone attending one of WinDoor's codes and standards Cross Country Roundups in the last 15 years. As technical director of Fenestration Canada, Baker shepherded the industry through the introduction of the North American Fenestration Standard, using his considerable communication talents to explain the sometimes inexplicable. Baker has always served on multiple advisory boards for industry standards and government policy bodies. He's a director at National Fenestration Research Council.
Frank Bruno joined Everlast in 1961 and bought the company in 1976, later adding Alumitex and insulating glass manufacturing. For 50 years he gained a reputation as one of the dependable good guys in the industry, establishing a network of long-term friends and solid business relationships. Always a big proponent of the association, Bruno was also instrumental in founding the Fenestra buying group. Many of the industry's leaders today look up to Bruno as mentor and example, not least his sons Johnny and Mike who now run Everlast.
Al Jaugelis is presently a technical consultant for FenCan following many years as a fenestration specialist at RDH Building Sciences and, before that, Innotech Windows. The list of standards committees he's served on just goes on and on. He was co-chair of NRCan's Market Transformation experts team that has been working on the energy standards that will be coming down in codes for many years to come. Jaugelis is well known for delivering many very informative and well-researched education presentations at FenCan events.
Pioneer Award
Jean St-Arnaud founded JSA Machinerie in Saint-Mathieu-de-Beloeil, Que., 33 years ago. His son, Martin, gave a moving tribute, honouring his father for many decades of innovation and growth in window fabrication technology. Under St-Arnaud's leadership, JSA became one of the most advanced suppliers of automated production lines in Canada, equipping some of our largest manufacturers today.
C.P. Loewen Award
Allan Doyle is vice-president of product development and engineering at Global Windows in Richibucto, N.B., but, more importantly, he's a guy that has always had a driving passion for helping this industry. Doyle has been one of the most active members of Fenestration Canada over the last decade, serving on multiple committees and taking the hard-work leadership roles more often than not. He served as president in 2017 and is presently treasurer. He's heading up the Fenestration Canada scholarship program…hear all about it and get to know Doyle better in his appearance on the Fenestration Conversations podcast.
Booth Awards
As the WinDoor media partner, Fenestration Review was proud to recognize several outstanding exhibitors with booth awards. Congratulations to Ferco Architectural Hardware (Best Booth), Sturtz Machinery (Best New Exhibitor), Screenco (Legacy), Interlock (Best New Product, Residential) and Emballages LM Packaging (Best new Product, Commercial).
---
Print this page