Articles Association News Community
Don't miss an All Canadian meeting of Fenestration minds in Vancouver
May 14, 2015 By Fenestration Canada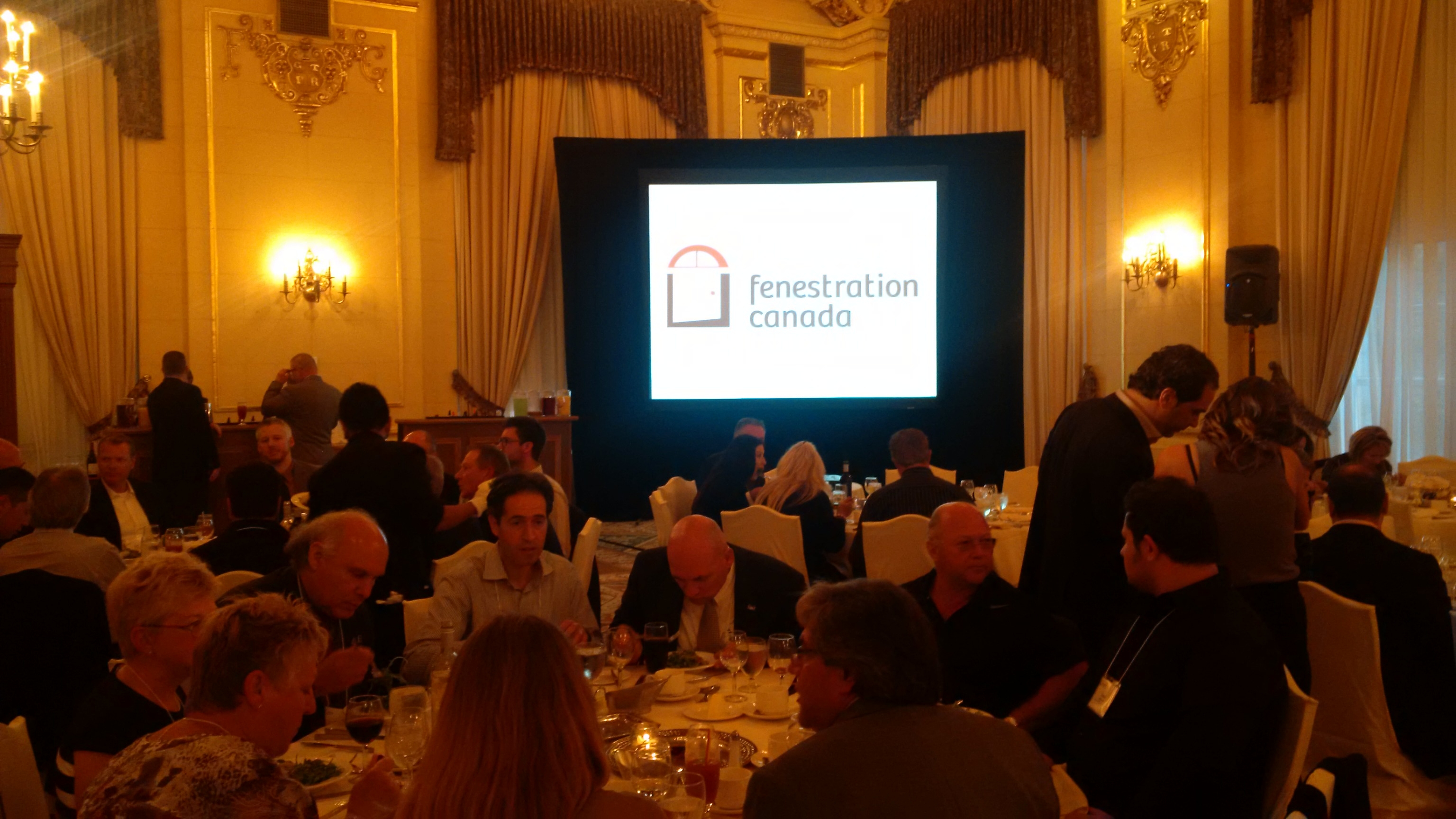 May 14, 2015 – A confluence of events is here – early NAFs implementation experiences in BC combined with Fenestration Canada's Annual General Meeting (AGM) in Vancouver June 4 – 6th. Another opportunity for a national representation of the fenestration industry to gain expertise together and give the entire industry an opportunity to make some logical and constructive decisions about the future that will ensure we continue to develop a vibrant, innovative, healthy industry.
A remarkable collection of window and door experts will be meeting in Vancouver and the value of participating in the FenCan AGM should not be underestimated.

The British Columbian fenestration industry has been experiencing a turbulent implementation of the NAFs portion of the building code, leading the way into the future. And the future has NOT "looked pretty" according to Terry Adamson of Westeck Windows in his report in Canadian Window & Door, "The restrictive requirements under NAFS in an environment of even modestly custom projects can make it very difficult to provide compliant products to every job. At this point, there simply is too much uncertainty and the process is NOT working. Most of us simply want a clear and realistic standard and system that provides reasonable and consistent regulations for our products."

| | |
| --- | --- |
| | |
| | |
Fortuitously, the FenCan AGM brings a broad ranging group of manufacturing and testing/codes experts from across Canada at this challenging time, precisely when the BC industry can provide important input. And, Fenestration Canada has launched several mechanisms including the Fabricators' Council to give a much stronger voice to makers of windows and doors.

And while the meetings have the classic "annual components" which are required to practically manage an important industry organization – Committees, Board and Executive meetings – the reality is that there are a variety of valuable presentations and seminars to expand your knowledge as well as numerous more entertaining components. An "industry keener" will also find that the agenda and topics continue to evolve over a course of time, depending on the critical topics of the day within the industry.

"Our participation in both WinDoor and Fenestration Canada has been extremely beneficial to our company as well as our young industry organizations," says Ryan Dudeck, executive leader of Paramount Windows and President of Fenestration Manitoba, "A greater understanding of code requirements has allowed us to be a much more proactive representative with important influencers such as Manitoba Hydro on behalf of our industry."

Formally or informally, the opportunities are easily available at the AGM events for extensive interaction with colleagues, professional development through committee participation and further education. Supplier sponsorships and a low key supplier product/service display at the AGM allow for direct interaction. Presentations on items such as Continuous Improvement encourages industry leaders to consider further advancements. More formal events such as the President's Dinner with recognition of achievements add further value to AGM attendance and involvement.

Notably, this may well be one of the most important, most critical times for industry owners and leaders to really GET INVOLVED, especially while the access and vehicles are available to achieve results. Vancouver 2015 lands in the midst of the most advanced NAFs implementation with the most critical sources of input. Vancouver 2015 creates easy access for BC window and door manufacturers to national influencers and decision makers and that opportunity should NOT be missed! The Fenestration Canada management team has opened the doors even more widely for easy access by FenBC members. A low cost "Friday meeting only" option will also allow those registrants to participate in the key Fabricators' Council over the Thursday lunch hour as well as all of the timely technical presentations on Friday.
As a leader within the industry, you owe it to yourself and your company to become more deeply engaged – learning why so many others have travelled to a Trans-Canada range of destinations including Banff, Alta; Montebello, Que; St. John's, NL; Winnipeg, MB and now Vancouver, BC! It actually becomes a coast to coast tour of Canada while developing an important range of relationships as well as the very noticeable friendships that are built up over time. After my second AGM, I
| | |
| --- | --- |
| | |
| | |
realized that a number of industry leaders made a point of travelling to these meetings with spouses and friends, thereby further deepening established relationships.
Learn more about the unforgettable, enthusiastic East Coast and very Canadian tradition of raising toasts at whatever point in the evening with a resounding. . Soo…ciable!
Feedback from AGM attendees from across Canada:

"While I attend and participate in meetings at both Windoor and the FenCan AGM's, I find The FenCan AGM's a more conducive environment for meeting key contacts – the environment allows for conversations that are more compelling and inviting. What I have learned and the people I have met at the two AGM's attended have resonated with me and on many levels which impacts how we do business," says Laura Weil, Marketing manager, Euro Vinyl and FenCan Membership Chair, "This will be the first year that EVW President Chris Meiorin will be attending the Fabricator Meeting after I explained how this is THE national meeting for manufacturers. This open space for collaboration and discussion on general industry concerns provides us a chance to have a unified voice – which will hopefully carry some weight for future industry specifications and stipulations."

"Our business is based on relationships, knowing products and participating in the changes and growth of the industry," says Ted Paetkau, principal of Fenestration Components International, "So, I attend primarily to connect with others in the industry, to discuss the business of the industry, especially from other regions and how this may effects our industry. By participating in the meetings I find the information can be crucial to staying in touch with what is happening and what to expect down the road."

| | |
| --- | --- |
| | |
| | |
Greg Dickie, Director of Manufacturing, Atlantic Windows, says, "In recent years I've had various opportunities to participate in committees such as the Technical Services Committee and the Fabricators Council and have come to realize we all experience the same challenges. Having this network in Fenestration Canada to learn and share from is invaluable and the willingness of its members to help and support one another is immeasurable. Our purpose is the betterment of our industry. I now call competitors colleagues and work with them to navigate our industry into the future. If you are in the fenestration industry you need to be an active member of FenCan."

"After attending more than 5 FenCan AGMs, I've come to realize that the range of benefits include a firsthand national perspective on code changes, hearing about Energy Star first hand, hearing Fab Council members discuss problems common to my company and simply being involved makes Westeck a more highly regarded company," says Terry Adamson, Technical Director, Westeck Windows and Chairperson of Fen BC. "My starting point was a "west coast outsider but very important industry connections have kept growing from day one!"

"I have found the FenCan AGM to be the best event of the year in order to keep well informed on all news standards/regulations, along with great networking. The Fabricator's Council gives us the opportunity to try to control our industry a little bit more, says Pierre-Luc Bellavance, R & D Engineer, Lepage Millwork based in Rivière-du-Loup, Quebec.

"I've come to realize that the AGM is an extremely valuable forum and will participate in the Fab Council by telecom as I can't make it to the event this year. The Fabricator's Council become a significant source of both information and a place for lobbying for improvements to our industry environment, says Phil Lewin, Vinyl Window Designs, Ontario.

"I attended my first AGM in Winnipeg last June," says Bernard Rokicki, Director of Sales and Marketing, Inline Fiberglass, "Participating in the Fenestration Canada technical meetings and Fabricators' Council was a very important driver for us to more clearly understand the impact of regulatory requirements and we have responded accordingly.

For more information
fenestrationcanada.ca
---
Print this page