November 15, 2022 By Patrick Flannery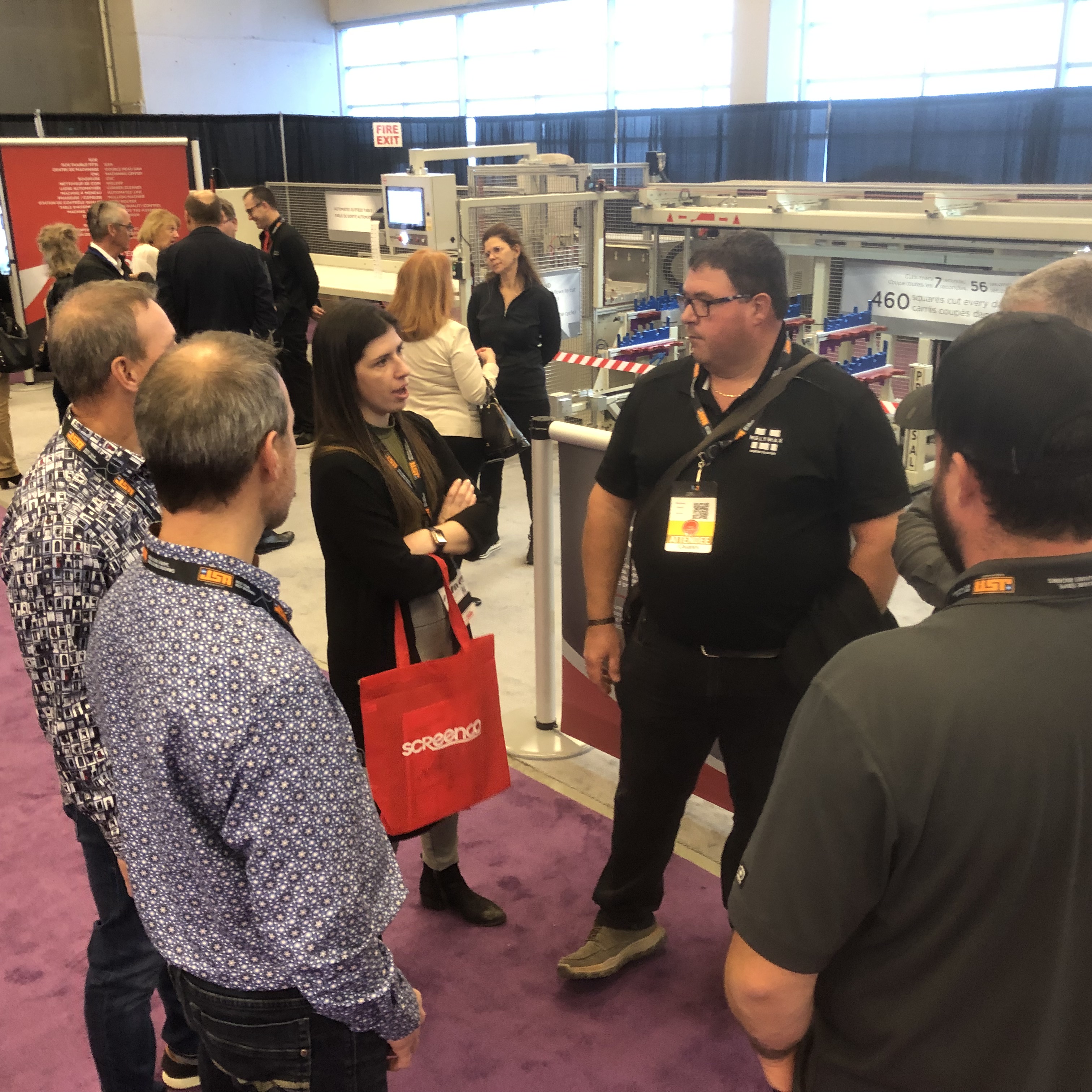 WinDoor 2022 in Montreal brought a buzz and energy that hasn't been seen at the show for several years. Organizers reported over 1,200 attendees visited the downtown Palais de Congress Nov. 9 and 10 for two full days of education sessions, socializing, networking and browsing about 75 exhibitor booths. Supplies and services for window and door manufacturing were on display, including fabrication machinery, ERP and retail software, hardware and components and sealants and finishes. Exhibitors seemed thrilled, reporting good traffic and high-quality contacts.
Spicing up the event was the evening dinner on the 9th at an old train station repurposed into an event space called Place Gare Viger in Old Montreal. Following dinner and some remarks from Fenestration Canada luminaries, association vice-president Cam Drew of Thermoproof absolutely lit up the room with a rollicking charity auction. Great items like signed Carey Price and Paul Henderson jerseys were moved, but the highlight had to be the $350 Air Canada gift card going for $600. Bidders were obviously moved by the excellent cause: Fenestration Canada's new scholarship fund for students studying for the trade. Over $18,000 was raised.
Putting the charity auction over the top was president Mike Bruno's innovation of selling orders for McDonalds combos for $20. The late-night McDonalds run has been a tradition at the Spring Conference since Montebello in 2012, now turned into a major fundraiser at WinDoor.
The education program featured the usual solid content of current interest to fenestration fabricators. Maurice Quinn of Capacity Engineering gave some practical tips on on-site performance testing that will be increasingly relevant as builders opt for whole-building ratings under the new tiered energy codes. Fenestration Canada's Al Jaugelis hosted a session on occupant comfort that delivered some eye-opening science explaining just what creates a perception of comfort in a room, followed by a lively discussion that frankly could have gone on twice as long as time permitted. Again, the practical utility of the session was high since selling on comfort is likely one way window dealers will be able to get homeowners to accept the higher costs of high-performance products. Daniel Dicaire of Ottawa Community Housing riveted the audience with his tales of hundreds of millions of dollars being made available by governments for affordable housing projects…though enthusiasm was dampened somewhat by the astonishingly high performance ratings OCH has specified. Even that held its value, as part of Decaire's objective was to collect industry feedback on their specs, which he got in spades. Less available for feedback was Diana Charest of Natural Resources.
Canada who joined a session virtually to update attendees on the project to stimulate migration of Canada's buildings to net-zero performance by 2030. Some dark clouds are gathering over this project as it becomes clear that NRCan lacks the resources to process the numbers of rebate applications that are already coming in and that many millions of more applications will have to be processed in order for the country to meet its stated goals. This, in an environment where most window installers are already operating at full capacity with little ability to take on more work or grow their workforces. Yet there seemed to be little appetite for change to the rebate programs or to the overall plan set out in the Market Transformation Roadmap.
In general, it was one of the most successful shows in recent memory. The COVID unease dogging the 2021 event in Toronto was gone and everyone was thoroughly enjoying being together in person again. Sometimes you need to have something taken away to appreciate what you had, and the window and door industry got a reminder of just how valuable our annual expo is. WinDoor will return to Toronto in 2023, Nov. 15 and 16.
---
Print this page