News Events & Shows
Marketplace by WinDoor breaks new ground
November 18, 2020 By Patrick Flannery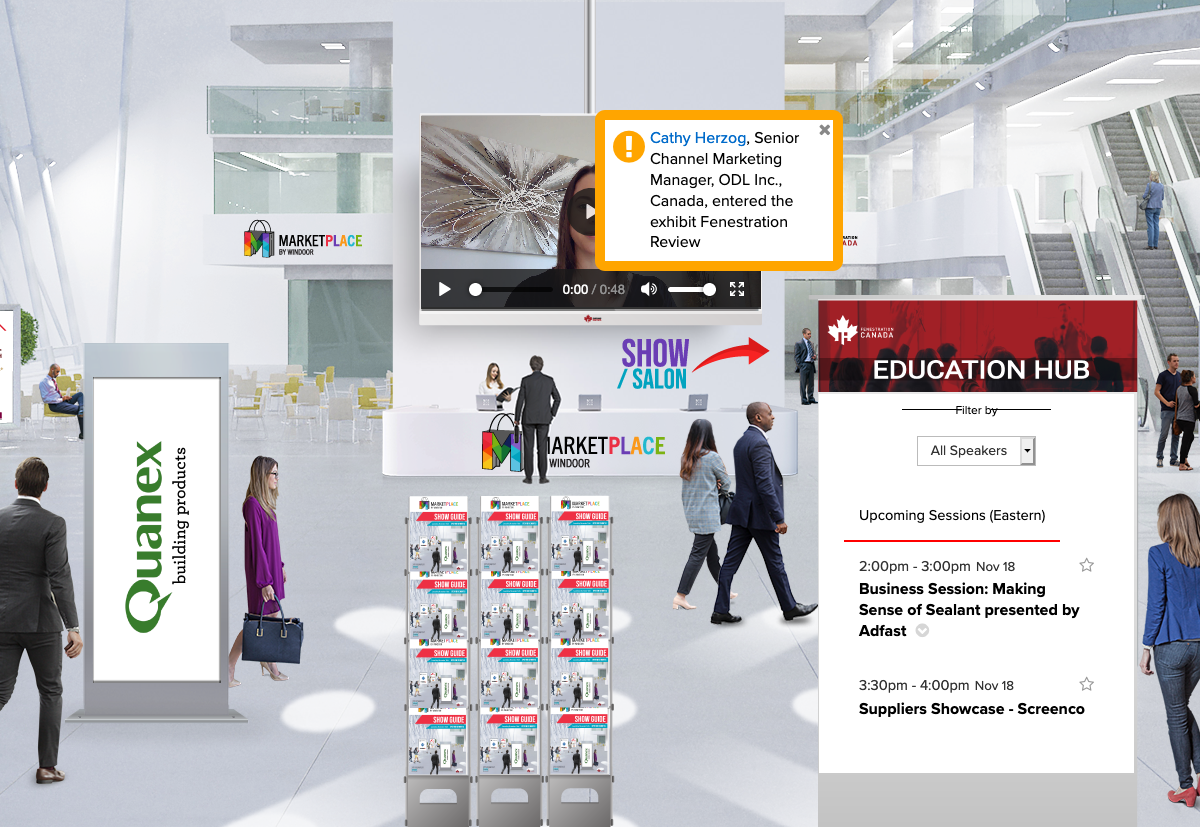 Fenestration Canada made the best of a tough situation with
a virtual version of WinDoor
that launched this week called Marketplace by WinDoor. We say "launched," because the week-long series of education sessions and social events does not represent the entirety of the event – the website will stay live permanently, allowing visitors to see the presentations and visit the exhibitor booths for at least the next year. Organizers are planning to add content and use the space to host other association events on an ongoing basis.
Overall the experience has been fun. Exhibitors have posted excellent videos to their online booths and the chat function allows you to say hello to all your old friends you would have encountered at the show. The education sessions have featured some very useful information on such topics as government support for COVID, design wind loads for glass and testing requirements for large windows.
One stand-out session was the AHJ Inspectors Perspective Panel which featured building officials from across the country talking about their understanding of codes and energy regulations as they relate to windows. Officials from Richmond, B.C., Medicine Hat, Alta., Markham, Ont. and Rothesay, N.B., joined FenCan technical director, Al Jaugelis, and PlyGem's Dave Goldsmith to tell the audience what they look for in documentation and labeling. They discussed the quirks in their regions and the biggest challenges they see in getting installations approved. Their wish-lists included a single authoritative certification for products; simple labeling; instructions for correct installation of specific designs and protection for nail fins.
Each day of the event ended with an online social event, including bingo, trivia and poker gatherings. Hardly a replacement for the usual Main Event gala, but definitely better than nothing.
FenCan executive director Stephane Labelle said about 500 people registered for the event and about 200 per day were visiting. The association hopes to return to a live event in Toronto in 2021, but of course everything remains uncertain pending the course of the pandemic.
The online booth format forced exhibitors to get creative with their presentations. Elton Manufacturing took home the Best Booth award for its series of videos featuring John Wolak and Andrew Beavan explaining their products. Sources say both have hired agents and will be coming to a big screen near you soon.
---
Print this page