October 21, 2021 By Fenestration Staff
WinDoor is where Canada's fenestration suppliers roll out their latest and best.  
Perfect for large patio doors
screenco.ca
Screenco Group of Companies is proud to present the Robusto patio door screen. This patio door screen boasts a three-inch-wide, heavy-duty extruded aluminum frame, making it the heaviest and strongest available screen in our product offering. Robusto is complemented with a sleek mortise locking handle and ball-bearing smooth wheels. This product is perfect for larger opening patio doors. Be sure to come by the booth and see it in operation.
---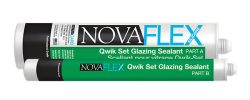 Supports high throughput
novagard.com
NovaFlex Qwik-Set glazing sealant is a two-component, 100 percent silicone, neutral-cure sealant that develops high initial green strength so you don't have to slow your production line waiting for traditional glazings to cure in bedding and glazing of glass in residential and commercial window designs. NovaFlex Qwik-Set glazing sealant allows for movement of assemblies within minutes of application without silicone transfer or glass shifting. Designed to support high manufacturing throughput, the variable-mix ratio of NovaFlex Qwik-Set glazing allows the cure profile to be dynamically adjusted based on plant conditions. Meets or exceeds the strength performance characteristics of ASTM C1184, AAMA 802.3-92, Type II, and AAMA 805.2-95, Group C. Qwik-Set's formulation provides several important advantages. The rapid curing improves quality and reduces callbacks. It offers excellent primerless adhesion to most substrates and accessories. The low viscosity makes it easy on pumping equipment. The adjustable ratio dials in your snap time. Squeeze-out cleanup makes that part of the job quick and easy too.Qwik-Set Glazing Sealant from Novagard is available in five-gallon pails and 55-gallon drums (and, soon, in cartridges for use in the field).Visit Novagard at WinDoor booth 505 for a Qwik-Set demo.
---
Programmed for you
protomach.ca
The PROMCP CNC machining centre from Protomach can machine two cut-to-length profiles at the same time. Up to 10 tools can be programmed to machine the pre-cut frames, sashes or mullions as per the fabrication required. The programs are adaptable for various profiles and hardware types. A computer is used to transfer information from your fabrication software to the machine's PLC. A measurer installed at the entrance will reposition the part if the length is longer or shorter than it's supposed to be. It includes an infeed pusher. The maximum profile length is 9.1' feet, or longer upon request. The PROMCP machining centre combined with a Protomach double-head saw can receive the list of machining operations to be done on the cut parts. Depending on the desired flow, a single operator can feed the saw and the machining centre. Protomach also offers cut-optimization software and waste-management software for the remaining pieces. Protomach designs, cuts, welds, assembles and programs the customer's entire project at its factory. Also, the software is entirely programmed by the Protomach team. There are no subcontractors. Protomach specializes in the area of windows, patio doors, entry doors and garage doors. The PROMCP machining centre is manufactured using North American components and backed by local suppliers and a highly technical support staff. 
---
Replicates powder-coated aluminum
skai.com
With Skai Mattex, Continental presents a new exterior surfaces program that features an extreme matte in laminated surfaces. It has a gloss level of two. This innovation perfectly replicates the look and feel of powder-coated aluminum with a particularly fine, yet concisely structured surface. Due to the extremely matte finish, the surface has a very high-quality appearance, the impression is even intensified when touched. The surface is particularly scratch-resistant due to its grain structure. In addition, it is sealed with a PVDF layer resulting in a particularly low surface tension that makes it easy to clean and is highly resistant to chemicals. Due to its high temperature resistance, it shows no gloss development during either welding or bending. Skai Mattex is available in nine solid colours ranging from white to black with important intermediate tones and also includes a very unique and perhaps unusual yet stunning combination of the Mattex surface with a woodgrain design – the Kitami dark, a charred blackwood in the style of the traditional Japanese Shou Sugi Ban art of charring and preserving wood. For more than two years, the finish options out of the Skai Woodec program have been highly successful. The visual effects and the tactile elegance combine to create a high-quality overall impression that makes the surface almost indistinguishable from real wood. This is due to the deep embossing and the extremely matt surface which embellishes the component. Up until now, three modern oak designs were available, Sheffield Oak alpine and Sheffield Oak concrete, and the very natural Turner Oak malt. Now Continental officially presents three other colourations to compliment the existing palette: Turner Oak toffee, Turner Oak amber and Turner Oak walnut 
---
NEXT-GENERATION SOFTWARE
prefna.com
PrefSuite is a flexible and modular enterprise software specifically designed for the needs of the window, door and facade industries. As an integrated and interconnected enterprise solution, PrefSuite supports business by adding value in all relevant areas. No matter if the process uses vinyl, wood, aluminum, steel, fibreglass or any combination of these, PrefSuite offers solutions to suit all business processes and any product range. Automating planning stages with live feedback and paperless production are the guiding principles of PrefSuite. PrefSuite acts as a digital business assistant, planner, sales coordinator and administrator. Material requirements, optimization and static or dynamic inventory control are among the core abilities of PrefSuite. Delivery and rack locations, assembly planning and continuous status updates improve shipping logistics. User-friendly and intuitive screens walk the user through the setup of the CAD engineering process. PrefWeb by PrefSuite is a e-commerce suite developed with the specific needs of dealers in mind. The solution is designed to help sell and install fenestration products using the HTML5 configurator. The display uses live-rendered 3D graphics (now even from virtual reality) and will transmit orders electronically to the manufacturer. 
---
FOUR-AXIS DOOR CUTTING
fabplus.ca
This lightning-fast four-axis door-cutting CNC machining centre from Fabplus opens new possibilities. Its hyper-strong structure, with all the high tech features needed in a door machine, can completely change a door department. Using the head for milling on top and on the side of the door allows it to do everything now but remain flexible enough to adapt to future innovations in slab design. The automatic tool changer is expandable for up to eight tools, with four holders included. The machine is capable of cutting door lengths with a drill bit, eliminating the need for a separate saw. All door features may be executed: cut-outs, multipoint, hinges, face plates, panic bars, peep holes, door knobs, locks and more. Motor speed variation and travel varies automatically depending on the material type. X and Y travels are fast and accurate thanks to a rack and pinion system. The machine features automatic loading and unloading of the door slab into the machining area. The door can be loaded into the front for increased productivity or the back to reduce the floor space requirement. The Fabplus door cutter can be used in a full door line with additional machine types available. 
---
CONNECTED TO THE INDUSTRY
myparadigm.com
Paradigm will exhibit several software products at WinDoor. Paradigm Omni makes configuring and quoting complex building products fast and easy. This omni-channel selling solution offers online, in-home, in-store and dealer functionality to help business owners maximize sales and reduce tech stack. Paradigm Nexus is a fully integrated enterprise resource planning software for manufacturers in the building products industry. Paradigm Estimate simplifies the material takeoff process and removes friction for estimators by delivering faster, more accurate takeoffs that win more bids. Paradigm Vendo is a digital selling solution that lets in-home sales professionals streamline selling and close more deals. Included for free as part of the Paradigm Omni quoting solution, Paradigm Vendo allows manufacturers to arm in-home sales staff with an app that helps them present products in the best light and close more deals. Paradigm Payments is a payment processing service specifically designed to help contractors, distributors, dealers and manufacturers eliminate the excessive cost and complexity of payment processing. While integrated payment solutions have become an essential part of the fenestration industry, complicated subscriptions and pricing oftern result in a bad deal. Paradigm simplifies all that. 
---
Print this page