News
CORONAVIRUS ROUNDUP
April 9, 2020
---
By
Patrick Flannery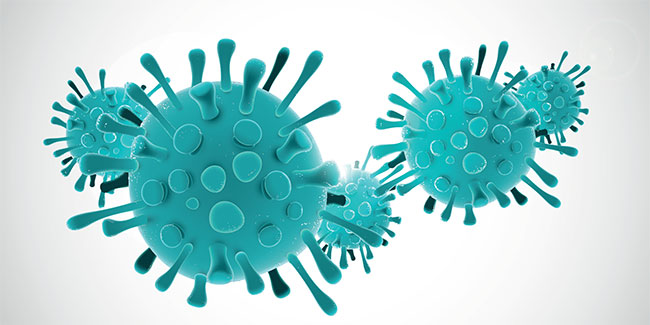 We'll update this page regularly with important news and resources concerning the COVID-19 pandemic for the Canadian window and door industry. Stay safe, everyone.
TODAY'S NEWS

Richelieu comments on pandemic response
Pella launches virtual window-buying service
Major banks accepting Canada Emergency Business Account online applications today
Canadian Chamber of Commerce calls on parliament to swiftly pass CEWS
Trudeau warns anti-pandemic measures may be "new normal" until vaccine available
Federal minister of small business video with Chamber of Commerce discussing COVID impacts, aid
Calgary construction workers keeping it clean
Saskatchewan construction industry donates masks to health authorities
Municipalities, construction groups concerned about cost overruns on federal infrastructure projects
Ontario extending hours, repealing noise bylaws, bringing on inspectors to accelerate essential construction
Scroll down for older news
---
PODCASTS

Corona Coverage – A look at credit insurance with Carl Pickett and Roch Simard from AU Group
Support for your Business – Bonny Koabel, AKR Consulting
Paying for Pandemic UPDATE – Bonny Koabel, AKR Consulting
Preventing pandemic pandemonium – Suzanne Bernier
Paying for pandemic – Bonny Koabel
---
RESOURCES

Fenestration Canada COVID-19 Hub
Canadian Chamber of Commerce COVID-19 Business Resilience page
MNP consultants' business advice page
Government resources pages for businesses
Business/financial assistance
Health
 Travel
---
OLDER NEWS
April 8
Windows part of keeping Canadians connected
Pollard's COVID blog provides insight to our industry's experience
Centra Windows outlines safety policy
Hanover reporting business as usual for now
Construction continues in Thunder Bay despite concerns
P.E.I. acts fast to modify jobsite guidelines
Osler law firm white paper explaining provincial essential services orders
Ottawa updates, clarifies and expands Canada Emergency Wage Subsidy
Changes, per Canadian Federation of Independent Businesses:
1. Small firms will be able to compare gross revenue against either (a) the same month in 2019 or (b) January and February 2020. This will help new and rapidly growing firms gain access to the wage subsidy.
2. Only a 15% gross revenue decline will be needed in March (30% for April and May). Now firms that had a decent first half of March (but were hit in the second half) will be able to use the wage subsidy.
3. Firms will be able to choose between cash and accrual accounting to determine the 30% drop. This will help many firms whose gross revenue may look good on paper during the 3 months, but may not have the $ to pay wages.
The government has also clarified that pre-covid wages will be based on average weekly remuneration from Jan 1 to Mar 15, 2020.
Canada Post offering free emergency mail forwarding
CSA has made several workplace health-related standards free to download
April 7
Indoor humidity may affect virus transmission
CERB takes over 300,000 applications on first day
Ottawa, banks, near deal on small business loans
ConstructConnect lists delayed projects by province
Saskatchewan Construction Association wants work to continue
Manitoba to set up temporary hospitals
Construction concerns in New Brunswick
Sites working in Nova Scotia at a slower pace
April 6
Worker on Vancouver airport expansion site tests positive
Saskatchewan Construction Association collecting information on affected projects
Manitoba announces tax and payment deferrals
Manitoba construction orgs put guidelines in place for construction sites
CCQ list of continuing and suspended services
Difficulty with COVID safety on Atlantic sites
Health Canada guidelines for disinfecting workplaces
CD Howe institute calls for support for asset-based finance industry
Canadian Chamber of Commerce launches business conditions survey
Mixed reaction from small business to wage subsidy
April 3
Ontario shuts down commercial and industrial construction
EDC chief economist predicts terrible recession, even stronger recovery
What's an essential service? Ottawa's definition…
Toronto passes bylaw mandating social distancing in public – $5,000 fine
April 2
Arcola Building Supplies has come up with a novel use for All Weather's products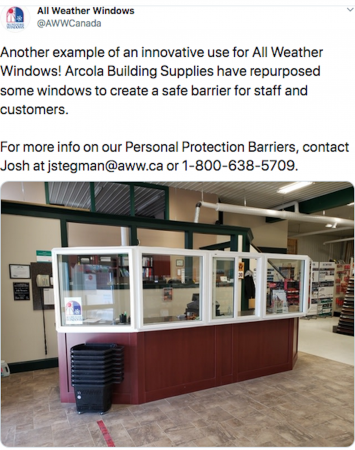 6.6 million Americans file for unemployment benefits in one week
More details of federal wage subsidy released
Ontario considering shutting down construction sites
Quebec construction workers don't want to lose construction holiday
Canada revenue agency hiring in anticipation of avalanche of benefits claims
WorkSafe BC releases safety guidelines for construction
April 1
Manitoba seeking businesses to provide supplies
Ontario state of emergency extended through April 13
Canadian Construction Association webinar tomorrow giving economic outlook for construction industry
CFIB reporting Canada Post will waive fees for forwarding business mail to home addresses. Nothing on the Canada Post site about this yet.
Ontario Minister of Labour, Training and Skills Development warns jobsites will be shut down if they don't sanitize toilets.
March 31
Manitoba orders non-essential businesses closed, manufacturing and construction exempted
BC Construction Association calls for input to inform lobbying efforts
Feds extend wage subsidy eligibility to any company seeing 30% revenue drop
Canadian Construction Association best practices for construction sites during pandemic
Mass gathering limits
BC – 50
Alberta – 10
Saskatchewan – 10
Manitoba – 10
Ontario – 5
Quebec – 2
New Brunswick – 10
Nova Scotia – 5
P.E.I. – 5
Newfoundland and Labrador – not specified "avoid crowds"
March 30
AXYZ invites fabricators to group making PPE and other COVID-fighting products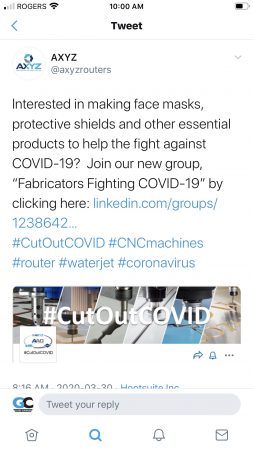 Ontario updates construction site guidelines
Ontario bans gatherings of more than five people
O'Leary predicts three-month shutdown, gives coping and investment advice 
Ontario keeping highway service centres open for truckers
March 27

Golden Windows to reduce operations:
"In light of the COVID-19 Pandemic declaration by the World Health Organization and the Government of Canada,
Golden Windows has been taking various precautionary measures and adjusting our operations to ensure the health
and safety of our employees, vendors and customers. At this time, we have reached the decision to operate on a very limited scale while ceasing plant operations from Monday, March 30, 2020 to Friday, April 10, 2020, with our full return on Monday, April 13, 2020. To our valued customers – if you have any questions related to an order, delivery, or service, please contact your sales representative. Also, you can continue to process your payments as always. We are taking this situation seriously and want to ensure that we all remain healthy and safe. May you experience health and peace during these trying times!"
The cure is not worse than the disease: Bloomberg
Small business group petitioning for government support
Statement from Canadian Construction Association
March 26
Feds to send $2,000 per month to support laid off and sick workers
WorkSafe BC to enforce social distancing on construction sites
Alberta Construction Association urges government to keep sites open
Ontario WSIB to allow payment deferral
Quebec construction union wants to keep working with safety measures
CCOHS makes courses and publications available to help workplaces
March 25
Fenestration Canada launches COVID-19 Hub
March 24
Quebec window and door industry ordered to shut down
Ontario window and door companies may remain open
March 20
Pandemic expert advises fenestration industry to expect more government orders