The latest technology for window and door manufacturers will be on display in Toronto
October 19, 2023 By Fenestration Staff
Tools well
cs2sales.com
DowSil Contractor's Weatherproofing Sealant is an industry-standard sealant for perimeter window installation. Colour trends change, so CS2 stocks 60 of the most popular window frame colours. CWS is a single-component sealant that cures through moisture exposure. This medium modulus sealant is designed to create durable, flexible and watertight joints. Notably, it exhibits exceptional adhesion to a variety of porous and non-porous substrates, all without the need for priming. Its specialized formulation makes it ideal for effectively sealing joints that undergo dynamic movement. Other applications include EIFS, bedding of mullions, panels and frames, tilt-up panels, curtainwall joints and many other uses. It is easily gunnable in all weather conditions from minus 29 to 49 C. CWS is a highly economical sealant considering its performance. With movement capability of plus or minus 40 percent it outperforms other sealants at its price point. Feedback from installers indicates it tools well. CS2 has been in business for 20 years and has a central location for pick up or delivery. Assistance with product selection is available through a team of technical advisors. CS2 is the exclusive distributor for Dow Chemical silicones in Ontario as well as Saskatchewan, Manitoba, New Brunswick, Nova Scotia, PEI, and Newfoundland and Labrador. Contact CS2 as well for any silicone needs including two-part IG or structural sealants, one-part structural silicones, polyurethanes, foams and many more specialized sealants or glazing accessories also.
---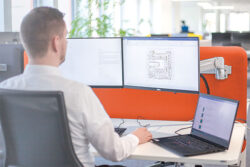 Drives success
orgadata.com
Orgadata provides the popular software LogiKal. LogiKal is a software solution for the glazing industry. It's tailored for the storefront, curtainwall and window and door industries. Logikal optimizes project management, enhancing efficiency, collaboration and decision-making. Whether a small team or a large enterprise, Logikal empowers users to deliver projects on time and within budget, ultimately driving the organization's success. 
---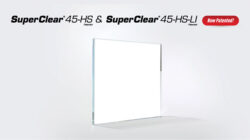 Alternative to films, ceramic and wire
safti.com
Safti First's patented SuperClear 45-HS (hose stream) and SuperClear 45-HS-LI (hose stream, low iron) are North American-made, non-wired, tint-free, monolithic, fire-protective glazing products for all 45-minute doors, sidelites, transoms and openings. Listed and labeled by UL and Intertek, SuperClear 45-HS and SuperClear 45-HS-LI are available in large sizes and meet CAN/ULC S104, CAN/ULC S106 with hose stream and CAN/CGSB 12.1 Class A and B impact safety without additional films or laminates. SuperClear 45-HS and SuperClear 45-HS-LI have high acoustical ratings and can be customized to protect against bullets, forced entry, blast, hurricane and more.  Both products have a lifetime warranty and are approved glazing components in the NFRC CMAST database. Proudly North American-made with fast lead times, SuperClear 45-HS and SuperClear 45-HS-LI are affordable alternatives to expensive filmed and laminated ceramics or unsafe wired glass with better durability, VLT, STC and OITC performance values. 
---
Proud supporter
screenco.ca
Screenco has over 35 years history in the fenestration industry and is a proud WinDoor sponsor. It's extensive market coverage in Canada and the United States allows it to provide quality products and industry knowledge North America-wide. Screenco offers a wide variety of products including grille bar and accessories, steel reinforcement channel, fabricated window and patio door screens and lineal and components for fabricators to produce their own screens. Visit Screenco at WinDoor booth 501.
---
Smooth, uninterrupted surface
amesburytruth.com
The Attraction handle and cover from AmesburyTruth has taken style and performance to a higher level for casement and awning windows. Featuring a concealed magnet designed to draw the handle into proper placement, Attraction folds into a smooth, uninterrupted surface that makes cleaning easier. The long slender handle features a filled backside that improves the appearance when open, resists folding and reduces operating force offering smoother functionality. The handle and cover are made of zinc for lasting durability and available in an abundance of painted and plated finishes. Because it was designed to work with the Encore operating platform, Attraction can be used to upgrade existing Encore installations. Attraction will blend seamlessly into any window design, providing elegant esthetics and functionality customers will love. AmesburyTruth will exhibit Attraction at WinDoor booth 325. 
---
High-quality seals
schlegelemi.com
SEM SP offers high-quality materials to meet weatherstripping and sealing needs for any project size with superior sealing technology, delivered when needed. SEM SP commits to having the highest quality components available in customers' hands, on time, every time. From custom windows and doors to office cubicles and other building product projects, SEM SP provides consistent quality. The SEM SP portfolio includes the PolyFab premier line of foam PP, TPE and dual-extrusion gaskets that are RoHS- and REACH-compliant; custom and standard extruded co-polymer and polypropylene seals; and vertical pile yarn woven with a horizontal weft with hard or softback coating. SEM SP products can help meet several safety standards including ANSI/UL 10B door assembly fire tests; ANSI/UL 10C positive pressure door assembly fire tests; and the CAN/ULC-S104 standard door assembly fire test method. Products are UL 10C and AAMA certified. SEM SP is a member of the National Glass Association and Fenestration Canada.
---
Reduces energy loss
industriesradisson.com
Radisson introduces its cutting-edge Apex system, a solution designed to redefine efficiency, security, and durability in both casement and awning windows. Boasting a range of innovative features, the Apex system is poised to enhance product offerings. Its innovative corner drive system introduces an enhancement to conventional window design, incorporating an additional locking cam mechanism that goes beyond the traditional vertical axis and extends to the top horizontal section of the window sash (or bottom in an awning situation). The Apex system offers the flexibility to include up to five locking points. These combined features contribute to achieving a higher design pressure rating, ensuring the system's resilience and durability even under extreme conditions. In the pursuit of energy efficiency, the system incorporates increased compression and therefore weatherproof sealing. This feature enhances insulation and minimizes energy loss. The tie bars' pre-punched guide locations are strategically positioned to streamline the installation process. The design not only saves valuable time on the production line but also ensures precision and accuracy during the application of the system, significantly reducing the risk of errors and costly rework. Furthermore, the Apex system offers full cam adjustability, providing a seamless locking mechanism that adapts to specific process needs. This adjustability produces a smooth, secure fit, thereby enhancing the overall performance and reliability of the system. Users have the choice between the standard powder-coated carbon steel finish, which offers a durable and cost-effective solution, or the premium option of 304 austenitic materials, renowned for their maximum durability and resistance to corrosion. 
---
Highly sustainable
swisspacer.com
Swisspacer Ultimate offers impressively low thermal conductivity as the spacer bar significantly reduces the thermal bridge on the glass edge. The warm edge also prevents the formation of condensation and thus reduces the risk of mould. All that and the data of the associated environmental product declaration allow Swisspacer to state that Ultimate is a highly sustainable spacer bar. According to IFT guidelines WA‑17/1 and WA-08/3, Swisspacer Ultimate is a high-performing warm edge spacer bar. Ultimate ensures excellent PSI values and correspondingly low U-values for windows and facades. The high-tech foil applied on the rear serves as a gas and vapour barrier and reliably protects against gas loss and penetrating air humidity. Swisspacer also impresses in terms of its looks: the high stability of the spacer bar profile ensures an exceptional parallelism of the frame and thus the best look in the window. The matte surface reduces unpleasant reflections. The scope of supply includes 17 different colours, enabling the insulating glass unit to adapt to the appearance of any window. While in use, Ultimate saves considerable energy costs and thus also a considerable amount of carbon dioxide. The spacer bar itself is demonstrably highly sustainable as proved by the Swisspacer EPD. The document provides detailed data on the environmental impacts of the spacer bars on the basis of a life cycle analysis. Fabricators therefore have the possibility to select appropriate low-emission products for their insulating glass units and support customers in obtaining building certifications such as DGNV, LEED or BREEAM. 
---
New handle collection
ferco.ca
Ferco has announced a much-awaited launch of its latest innovation: the large handle trim Berlin Collection. It is compatible with the company's automatic multipoint lock system. This beautiful trim will be available as a gripset as well as a lever handle set-up. See it at WinDoor booth 609.
---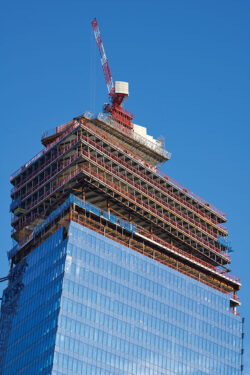 Helps you compete
ul.com
UL Solutions is a global leader in applied safety science, transforming safety, security and sustainability challenges into opportunities. UL Solutions delivers testing, inspection and certification services. The organization provides a wide range of services for building envelope designers, from field and onsite testing to advisory, performance mock-up and facade testing. UL can help fenestration providers compete in a complex global supply chain. UL Solutions will assist design teams to select the optimal envelope system characteristics, test building products and system performance and help navigate regulatory complexity.
---
150 years of solutions
basfrefinish.com
As the world's largest chemical company, BASF offers advanced paint technologies, set apart with products backed by support in technical training, colour information systems and business management. BASF Automotive Refinish Coatings develops and markets the highest-quality coatings available for the window and door, collision repair, commercial fleet and automotive specialty markets. Customers are at the heart of everything BASF does. That's why BASF has spent more than 150 years working side-by-side with customers, listening to needs and developing solutions to sustain the future of our customers in a rapidly evolving industry. BASF offers quality coatings and tailored solutions to create greater efficiencies, productivity, profitability and sustainability in our partners. 
---
No welding curb
grafsynergy.com
Discover superior PVC window welding with the Graf Synergy SL4FF EVO, a four-head CNC welder that completely eliminates the welding curb from corners. PVC windows production is transformed with V-Perfect technology, patented by  Graf Synergy. V-Perfect enables profile production with no more unesthetic welding curbs, no more corner cleaning and no more manual touch-up work with brushes or markers. This unique machine is designed to create perfect welds on any type of profile. Not only white and painted or foiled, but even PVC profiles containing glass fibre or hybrids with aluminum cover. Aluminum clad profiles can even be placed on the welder with the aluminum cover on. The entire process is optimized for more space, more quality, more efficiency, less operations, and less manual work. With over 120 versatile products in the catalogue and a sales and service subsidiary in Canada, Graf Synergy is a strong partner to improve the production of PVC doors and windows.
---
Replaces conventional systems
hbfuller.com
The Kodispace 4SG from H.B. Fuller Kommerling offers an innovative and globally recognized system for windows and facades, which minimizes heat loss along the edge of the glass delivering sustainablity even under the harshest climatic conditions. Kodispace 4SG replaces the conventional edge system made of spacer bar, desiccant and primary seal. Its special formulation creates a chemical bond with glass and silicone and creates a tight and at the same time elastic unit, which retains the gas in the space between the panes and thus guarantees constant high energy efficiency for many years. The system's outstanding thermal insulation properties contribute to higher living comfort, savings in heating and air conditioning costs and a consequent reduction in carbon dioxide emissions. Also, Kodispace 4SG is very interesting from an esthetic point of view. The black sealant is applied fully automatically and with the utmost precision by a robot, creating esthetically superior insulating glass in almost unlimited variety. For the production of insulating glass, Kodispace 4SG from H.B. Fuller Kommerling offers further advantages including fully automated lines contributing to highly efficient production and reduced inventory and waste. As a fabrication partner, H.B. Fuller Kommerling supports the installation of an insulating glass line from planning to complete commissioning, as well as providing after-sales support and services.
---
Get certified
keystonecerts.com
Fenestration manufacturers count on Keystone Certifications for world-class code and energy incentive program compliance solutions. Its complete slate of certification and quality assurance programs and services are ANSI and SCC-accredited, NFRC-licensed, EPA-recognized and building-official approved across Canada and the U.S. Keystone has earned an uncompromised reputation for outstanding customer service and support. Fenestration and building material manufacturers can turn to Keystone Certifications for fenestration thermal performance, structural and impact certifications as well as NFRC inspection agency services, insulating glass certifications and quality assurance for Florida product approvals. Visit Keystone at WinDoor booth 203.
---
Ideal for any finish
canada.odl.com
Superior craftsmanship, durability and innovative design are hallmarks of ODL's wide selection of fine fiberglass and steel doors. The newly designed Harbour Craft Shaker door was created by state-of-the-art technology and features a unique surface ideal for any pre-finishing process.  
---
More than just cutting
bottero.com
The Evo cutting platform is the top of the range of Bottero cutting systems, offering exclusive performance and flexibility. Thanks to the options of equipping the machines with two additional tools besides the cutting tool, the EVO systems can be also equipped with low-E glass grinding and laser marking or labelling of the processed piece. This option makes the Evo systems ideal for forming part of the automated and controlled production flow, which is typical in advanced window, door and glass fabrication factories and set forth in the "Industry 4.0" concept. The Evo range stands out due to its modularity and versatility, which allows the float cutting tables to be totally custom configured according to specific customer requirements from stand-alone cutting tables up to intensive high-automation production systems with fully integrated lines including stock management, loading, low-E grinding, labeling, cutting and automated breakout modules. Each constructive and functional feature of the Evo range is designed to ensure extreme processing precision and maximum productivity for each specific production requirement.
---
Greater views
fentro-doors.com
Unlock greater views with Fentro lift and slide doors. Fentro is a reliable partner to window manufacturers for pre-assembled, high performance doors with NAFS-tested configurations up to 21 feet wide.Fentro doors include smooth sliding hardware for sash weights up to 400 kilograms. Eleven wood grain and foil colours are available. Fentro doors deliver optimal thermal performance with a five-chamber sash design and triple seal technology.
---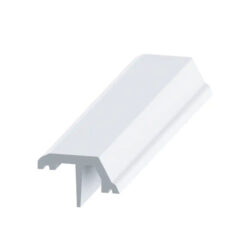 Canadian standard
eltonmanufacturing.com
The Elton EP Contemporary door lite frame series delivers a true blend of style and functionality. These frames are injection moulded, providing both durability and a precise finish. With the one-piece construction, the modern frame not only looks good but is also built to last. Available in most common sizes with white or black exterior frames. Elton's 40 years of experience brings an unparalleled Canadian standard to the quality of door lites.
---
Print this page